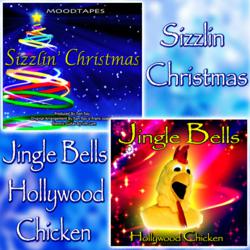 "Sizzlin Christmas really does sizzle. It could easily become a new Yuletide standard - it's perfect for major radio airplay." Ron Oberman - former Vice President A&R of Columbia/MCA Records and early publicist for Bruce Springsteen
Los Angeles, CA (PRWEB) November 21, 2011
Moodtapes (http://www.Moodtapes.com) is celebrating the holidays - and its twenty fifth anniversary of producing award winning music and videos - with the international music and video releases of it's dynamic and upbeat new Christmas instrumental single "Sizzlin' Christmas" -- and its zany and comedic novelty release of "Jingle Bells" by their new "recording star" - The Hollywood Chicken.
Sizzlin' Christmas reunites the critically acclaimed music team of LA's award winning producer/director Ron Roy, renowned composer/ arranger Frank Josephs ... and features the extraordinary electric guitar of legendary LA guitarist Jim Lum.
Lum's guitar skills have been featured on numerous hit albums and he has also recorded/toured with stars such as Carlos Santana, James Ingram, Seals and Crofts, Celine Dion, Al Jarreau, Peter Frampton, and others.
"We wanted to create a new holiday classic... a song that captures the sizzle and excitement of the Yuletide season… a song that will play for years to come worldwide... and that totally rocks!" says Moodtapes President Ron Roy "Once Frank and I were completely stoked with our arrangement, we brought in Jim and his slammin' electric guitar to drive it into the stratosphere. His guitar track is electrifying ... it definitely added the magic finishing touch!".
Moodtapes new novelty release - "Jingle Bells Hollywood Chicken" - is designed to delight the children's (and adult cross-over) audience. It features a comical chicken merrily "clucking" Jingle Bells to a fun, jingly, and bouncy instrumental arrangement. It's backed up with an outrageously funny viral video featuring "The Hollywood Chicken" in his professional "Tinsel Town" recording session debut.
Music/Video Demos:
Sizzlin Christmas: http://www.youtube.com/watch?v=O15xHKoZYgg&feature=grec_index
Jingle Bells Hollywood Chicken: http://www.youtube.com/watch?v=IoagyKrSUcQ
Music industry professionals and preview audiences are enthusiastic about both new songs:
"Sizzlin Christmas really does sizzle. It could easily become a new Yuletide standard - it's perfect for major radio airplay." says independent music executive Ron Oberman (former Vice President A&R of Columbia/MCA Records and early publicist for Bruce Springsteen).
Los Angeles Underground Rave DJ "Rockin Robin" (Ultimate Music) adds: "Most Christmas music is way too boring for my audience, but I'll be spinning Sizzlin Christmas at all my holiday gigs... the beat is fantastic!"
Furthermore, one of the internet's longest running and most popular radio stations, ChristmasRadio.com - which "Broadcasts the Holiday Spirit Year Round Since 1999" - is adding Sizzlin Christmas to their holiday playlist.
"We've had extremely positive audience previews" says Roy "Our fans keep comparing Sizzlin Christmas to Mannheim Steamroller and Tran Siberian Orchestra." He adds "This year we're debuting our singing "Hollywood Chicken" for kids of all ages. His "clucking" of Jingle Bells has everyone in stitches – it's silly, fun, and completely ridiculous -- it's a hoot!"
Complimentary Broadcast Quality MP3's or CD's of Both Songs are Immediately Available for Radio/Web Airplay. (see below)
Sizzlin Christmas, Jingle Bells Hollywood Chicken, and additional Moodtapes are also available on iTunes, Netflix, and CD-Baby.
ABOUT MOODTAPES: Since 1986, Moodtapes has garnered critical acclaim and international media attention. Moodtapes original recordings have charted National Top Twenty and have been chosen for Heavy Rotation airplay Coast to Coast on major radio networks such as The Wave, Musical StarStreams, Soundscapes, The Breeze, and many others. Moodtapes video productions have been featured on VH1, Entertainment Tonight, E! TV, Oprah, and more. Ron Roy and Moodtapes have won numerous awards including the First Place "Golden Camera" Award at the US International Film and Video Festival, The International Academy of the Visual Arts- Davey Award, and a recognition of excellence at the AFI / Billboard Magazine Awards.
For Additional Information, Promotional Materials, and Radio Airplay Copies Contact:
Jeremy Sloane
Media/PR Director
Moodtapes/Ron Roy Productions
(818) 445-6802 Jeremy(at)Moodtapes(dot)com
###