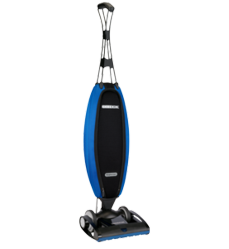 The Magnesium combines cleaning power, easy handling and durability in an ultra-sleek design. There's no choice between lightweight and powerful. Magnesium makes it light. Oreck makes it powerful. -Scott Vogel, Chief Marketing Officer, Oreck
Nashville, Tenn. (PRWEB) November 22, 2011
Oreck Corporation, a longtime industry leader in the manufacturing and sales of quality homecare products, introduces the Oreck Magnesium™ upright vacuum—the lightest, full-powered upright in America.
The Oreck Magnesium upright vacuum is designed with a durable magnesium alloy frame that is stronger than many types of steel. It weighs 7.7 pounds without the cord and is the most lightweight, two-speed vacuum Oreck has ever offered.
"With Magnesium's unique magnesium alloy frame, Oreck has been able to take away weight where it isn't needed and concentrate it where it counts—in the motor where suction and cleaning power are generated," says Scott Vogel, Oreck's Chief Marketing Officer. "This streamlined engineering, coupled with Oreck's direct suction design, gives Magnesium its power—and it's incredibly lightweight.
The Magnesium's high performance motor delivers 102 mph of airflow and spins the pile-lifting rollerbrush at 7,000 RPM. On some floor surfaces it feels as if it is self-propelled. Large high-performance rear wheels with cylindrical wheel bearings give the two-speed Magnesium maneuverability, making it easy to push through both short and longer-pile carpet.
The full weight of the Oreck Magnesium weighs about 45% less than the weight of the leading upright on the market*.
For more information about Magnesium visit http://www.oreck.com.
*Based on sales for the 12-month period ending September 2011
About Oreck
Headquartered in Nashville, Tenn., Oreck Corporation is a leading manufacturer in the homecare industry, offering a variety of vacuum, air purification and other cleaning products. Oreck sells its products in hundreds of Oreck Clean Home Centers, as well as through phone and online direct sales. The company distributes products in the U.S., Canada and parts of Europe. For more information, please visit http://www.oreck.com.
###