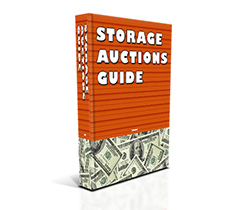 Paying too much for a unit is probably the most-common mistake novices and veterans alike make at storage auctions.
Prince William County, Virginia (PRWEB) November 19, 2011
The popularity of storage auctions has seen explosive growth in the past year thanks to the introduction of no less than 4 reality-based television shows on the subject. As a result, crowds at these events have grown by as much as 1,000%, and people are paying more than ever to acquire the contents of storage units. The Storage Auctions Guide offers the following tips to avoid wasting time and money when purchasing storage units at auction.
Find Better Storage Auctions
Where there once were groups of 20 people, now there are hundreds. A storage unit that would have sold for $500 at an auction last year, may now bring $1,500. You can still find the smaller, often more profitable auctions, but you will need to be creative and dig a little deeper.
Try using Google Maps to search a given area for self storage businesses. Research smaller, privately owned facilities that may not advertise their auctions in mainstream sources, like newspapers or their web site. Contact these companies directly and ask when their next auction will be held. Also be sure to ask if they have an auction schedule or email list you can be put on.
Don't Overpay for a Unit
Paying too much for a unit is probably the most-common mistake novices and veterans alike make at storage auctions. When you have reviewed a unit prior to the auction commencing, try to determine a maximum price you are comfortable with paying that is based on what you could see in the unit. It's ok to exceed this price on occasion, when you believe you will still find profit from acquiring a unit. However, if you routinely allow yourself to overbid at storage auctions, you will realize losses from your effort.
Make a Late Entry to the Bidding Process
If you have considerable interest in acquiring a given unit, sit back and watch the bidding process transpire before throwing in a late bid. Give time for other buyers to drop-out of the race and even wait until the auctioneer is calling for final offers and it appears that someone will win the unit. Often the introduction of a late bidder who appears ready to continue raising the price will discourage the remaining buyers from continuing.
Closely Track Your Expenses
Don't miscalculate your profit margins by taking for granted time spent researching storage auctions, attending auctions where you make no purchases, moving or storing the items you've acquired, and your gas or other travel expenses.
One contributor to Storage Auctions Guide remarked, "I've seen many people get excited when they realize an immediate profit on a unit based strictly on what they paid. However, some of these buyers don't take into account all the time, money, and effort they spent moving the items and the gas they use to attend several auctions a day."
Master Processing Units You've Acquired
Once you've obtained a storage unit at auction, you will need to quickly move all the contents, clean the unit, and organize your inventory. You should have sufficient storage or warehouse space available to you. Sifting through and categorizing your finds can take considerable space and effort.
Try to develop a system for organizing your sellable inventory, efficient disposal of trash, and donation of items to charitable organizations. Keep your inventory flowing and don't let items sit around. If something isn't selling, consider lowering the price or donating it for a tax benefit.
These methods and more are covered in the free Storage Auctions guide, available at http://Storage-Auctions-Guide.com. The guide was written with input from experienced auctioneers, buyers, and self storage facility managers. For more details about storage auctions, or to discuss this article, visit our storage auctions forum.
# # #