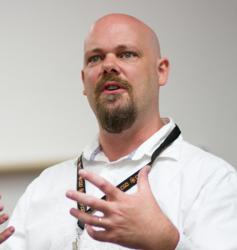 Newberg, OR (PRWEB) November 21, 2011
More than 200 students will receive undergraduate and graduate diplomas at George Fox University's midyear commencement ceremony scheduled for Saturday, Dec. 17.
The ceremony will take place in Miller Gymnasium in the Wheeler Sports Center on the school's Newberg, Ore., campus. Seating begins at 1 p.m., and the ceremony will start at 2 p.m. Tickets are not required; however, seating is limited to 10 guests per graduate. At 1:45 p.m., a live broadcast of the ceremony will be available to watch online at stream.georgefox.edu/live/commencement.sdp.
One-hundred and forty students will receive bachelor's degrees after completing study in one of George Fox's 41 undergraduate bachelor's degree majors or its adult degree programs. Another 107 students will receive a master's degree or a doctorate after completing study in one of the university's graduate programs or in its seminary.
Chris Skaggs, who graduated from George Fox with a bachelor's degree in history in 1999, will serve as commencement speaker. He is a 12-year veteran of the Web and mobile software industry and founder of Soma Games, a video gaming company with a Christian worldview.
Soma and its sister company, Code-Monkeys, have delivered software applications to some of the country's most discerning clients, including Intel, Four Seasons, Comcast and Aruba Networks. With a team of about a dozen programmers and artists, Soma Games moved into the mobile sector in 2009 and has delivered more than 60 apps in just over two years.
The title of Skaggs' commencement address will be "Keys To Your Calling."
More specifics on the ceremony are available at commencement.georgefox.edu.
George Fox University is a Christian college ranked by Forbes among the top Christian colleges in the country and is classified by U.S. News & World Report as a first tier regional university and a "Best Value" school. More than 3,500 students attend classes on the university's campus in Newberg, Ore., and at teaching centers in Portland, Salem, and Redmond, Ore., and Boise, Idaho. George Fox offers bachelor's degrees in more than 40 majors, degree-completion programs for working adults, five seminary degrees, and 11 master's and doctoral degrees.
-30-
Contact:
Karlyn Fleming
Office of Academic Affairs
503-554-2141
###