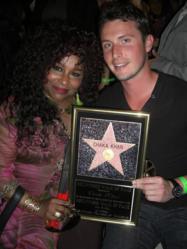 I'm also honored to be attending the show with my mentor and idol, the incomparable Chaka Khan
Hollywood, California (PRWEB) November 18, 2011
Up and coming Pop/R&B newcomer Tyler Wade will attend the 2011 American Music Awards. The American Music Awards will be airing live on ABC from the Nokia Theater in Los Angeles on Sunday, November 20th, 2011 at 8/7c.
Tyler Wade will be in attendance with his mentor and friend, the legendary soul/funk icon Chaka Khan. Chaka Khan has won 10 Grammy Awards and 4 American Music Award nominations. Accompanying both Tyler and Chaka will be celebrity consultant Raffles van Exel, President and CEO of Raffles Entertainment.
"This is a dream come true, as I have always wanted to attend the American Music Awards." States Tyler Wade. "This will inspire me to work even harder on my debut album as I hope to one day be a presenter and maybe even an award recipient in the future. I'm also honored to be attending the show with my mentor and idol, the incomparable Chaka Khan."
About Tyler Wade:
Tyler Wade was born and raised near Atlanta, Ga. His father is a Presbyterian minister and his mother is a homemaker and independent business woman. Tyler learned to sing at an early age during participation in the church youth choir under the direction of Linda Manning, and was selected to perform many solos while participating at Midway Presbyterian Church in Decatur, GA. During this time, he developed a passion for music but just like all young people, he had to put this passion in the background for a few years in order to finish school.
Late in his teenage years, Tyler began modeling in the Atlanta area for G-Star, Diesel, and Y-3. He decided to move to Los Angeles in the summer of 2007 to further pursue his modeling career. However, in the background of this endeavor, there was always a desire to pursue music. While living and working in Hollywood, he had the opportunity to become associated with the socialite scene. Through the contacts he made, he began to earnestly pursue music again. Now a budding recording star, he continues to enjoy life in Southern California while finally having the opportunity to pursue his passion for music.
Tyler is working on material for his debut with more details to follow. For interviews and other inquires, please contact Raffles Entertainment: http://www.rafflesentertainment.com
Source: Raffles Entertainment
###