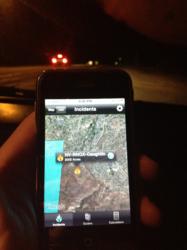 Dunsmuir, CA (PRWEB) November 19, 2011
The Caughlin fire began around 12:32 am Thursday night, just southwest of Reno, NV. During the course of the day, the blaze grew to an astounding 2000 acres. 9,500 people have had to flee from their homes to safety. Over twenty-five structures have been consumed by the inferno, and one person has died. Over 450 firefighters have responded to the incident so far. Having the FireWhat app gave them the edge to battle the blaze more safely and efficiently.
Firefighters from the Bay area were among those responding to the fire. Information can often be difficult, particularly in the first operational period of a natural disaster. However, fire is being fought smarter and more safely these days. The FireWhat app gave these firefighters critical information. Responding units can on a single page have latitude and longitude, current acreage consumed, weather reports, including the wind advisory just west of the Caughlin fire, and the public agencies coordinating the attack, with links to radio frequencies. Firefighters can show up on scene with more information than they've ever had before.
The information uploaded through the FireWhat App is also available and completely free on their website, firewhat.com. This is a huge resource for civilians living in Reno, allowing unparalleled access to what is happening in the area. The website lists all pertinent information about the fire, which is constantly updated as the situation changes. There is a map with topography and weather surrounding the fire's location. A link to Twitter organizes feeds, including where to go for shelter and updated news. The goal of FireWhat Inc. is to create one place where anyone can go and have access to the latest information from all pertinent sources, speeding and improving the dissemination of knowledge in an emergency situation, keeping all involved up-to-date and saving critical time for emergency services. The site was built by firefighters for firefighters, with the mission of bringing twenty-first century technology to those that need it most.
About FireWhat Inc.
FireWhat Inc. is a start-up company founded by an MIT grad and two professional firefighters. FireWhat's mission is to provide a professional platform that inspires the highest quality of emergency service training and education. Through development of web and mobile products, FireWhat Inc. seeks to update the antiquated delivery of emergency services training and to incorporate innovation into a technology-deprived industry.
###