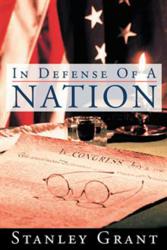 Greeley, CO (PRWEB) November 22, 2011
When asked what inspired his new book, ": In Defense Of A Nation" (published by WestBow Press), author Stanley Grant did not hesitate to answer. "The present state of America, given the church's widely adhered-to approach of staying out of government," says Grant. "America is reaping a bad harvest due to this bad doctrine."
As the "battle for America" rages on, Grant writes directly to Christian patriots to be unafraid of the tough fight ahead. "You are the players and if you want to win, you have no choice but to properly understand what 'game' you are in. In Defense Of A Nation will clear that up."
In "In Defense Of A Nation" Grant dissects this spiritual, political and social "game" and details the escalation that is on the horizon. Using biblical scripture and current events, Grant illustrates the coming upheaval and spiritual awakening that will serve as the catalyst to destroy the old paradigms.
"As history bears out, God does not use bigger church buildings, cool songs with lights and big drums, or elaborate productions to deliver nations from the jaws of tyranny. He does it by first destroying the corrupt political systems that oppress the people, then bringing about a spiritual awakening in the people, and finally bringing liberty to the people. History is about to repeat itself once again in America."
"In Defense Of A Nation" presents a call-to-arms for Christians looking to engage in the fight. By addressing such questions as "Is America a lucky anomaly in human history or is it a deliberate act of God;" "Who is America in the Bible;" and "Is God finished with America," "In Defense Of A Nation" addresses head-on the fears of many.
Grant is aware that the subject matter in "In Defense Of A Nation" will cause great discomfort and, perhaps, sleepless nights.
"This is not Christian-light," remarks Grant, "and it's not designed to give people the warm fuzzies. It's designed to sound the alarm and rally the people to a cause larger than themselves, their church building programs or the color of the new sanctuary carpet. It's not a business-as-usual book. Globalism, socialism and progressivism are doomed in America, but they will go down with a bang, not a whimper."
About the Author
Stanley Grant is an author, radio talk show host, public speaker and conservative political activist. He resides in Colorado with his wife, their grumpy cat and exceptional Jack Russell Terrier.
WestBow Press is a strategic self-publishing alliance of Thomas Nelson, the world's premier Christian publisher, and Author Solutions, Inc. (ASI)—the world leader in the fastest-growing segment of publishing. Through this partnership, authors benefit from the rich publishing heritage of Thomas Nelson and the speed-to-market advantages of the ASI self-publishing model. Titles published through WestBow Press will be evaluated for sales potential and considered for publication under the Thomas Nelson imprint. For more information, or to start publishing today, visit westbowpress.com or call 866-928-1240.
###