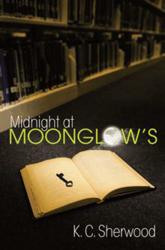 Chula Vista, CA (PRWEB) November 22, 2011
In the 2008 Hollywood movie "Inkheart," the protagonist's fantastical skill was to pull characters out of a book by reading the story aloud. In her new novel "Midnight at Moonglow's" (published by Abbott Press), author K.C. Sherwood posits a girl who can do the reverse – she can enter the story itself.
Life has always been lonely for 12-year-old Casey Parker, an obsessive reader who makes up for her lack of friends with books. The only attention she gets in school from the school bully. But when Casey's great uncle Walter moves back to town and takes over a mysterious little bookshop called Moonglow's, things begin to get interesting.
Uncle Walter gives her an old iron key and tells her to come back to read at night when the moonlight is shining in, because something truly magical happens. There are three rules she must follow: the books must remain in the shop at night, she must keep the key with her at all times, and, above all, she must be out by midnight.
Casey discovers that she can physically enter the story of any book she reads, but if she's not out by midnight, or if she forgets her key, she will be trapped inside the book forever. Casey knows she will have to face the bully again; disappearing into her favorite novel forever is beginning to sound like a great idea.
Sherwood has two hopes for the novel. "I would like readers to take away a little bit of a history lesson," she says. But also, she would hope that readers would "… learn the lesson of having confidence and standing up for yourself and facing your fears."
About the Author
K.C. Sherwood was born in New Jersey in 1973. She graduated magna cum laude from Ramapo University in 1995 with a B.A. in history, from which she derived her love of the past. After college she gained employment as a U.S. Customs officer and, seeking warmer climes, transferred to San Diego to work at the southern border. She also did a short stint as a federal background investigator before leaving government service for the private sector. She currently works for the local water district and lives in Chula Vista, California with her husband and three children.
Abbott Press, a division Writer's Digest—the oldest and most respected publisher devoted to the education and advancement of writers—is an indie-publishing imprint dedicated to helping writers bring their literary vision to print. Author Solutions, Inc., a leader in indie book publishing, will fulfill publishing, sales, and marketing services for Abbott Press. For more information, or to begin publishing a book today, log on to abbottpress.com or call 866-697-5310.
###