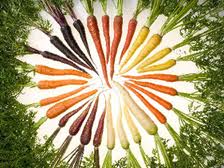 Carrot @ Olericulture.org
(PRWEB) November 20, 2011
Olericulture is the science and technology of cultivating and producing vegetables. Within this discipline, Olericulture.org provides a wide range of resources related to traditional temperate and oftentimes indigenous, tropical vegetable crops.
Olericulture.org has newly included 248 resources to its Carrot category. Carrots (Daucus carota, Apiaceae) differ in the color of their taproot ranging from yellow (European type) to purple (Asiatic type). Carrot is a biennial plant which grows a rosette of leaves in the spring and summer, while developing an edible taproot which stores sugars for the plant to flower in the second year. Carrots contain significant amounts of β-carotene, which is metabolized into vitamin A in humans. They are also rich in dietary fiber, antioxidants, and minerals. Successful cultivation of carrots depends on soil structure which should preferably be sandy and without rocks and other larger organic particles which induce crooked and forked taproots.
The general carrot section within the Vegetables Crops Category of Olericulture.org provides information about aspects of production of carrot including cultivation, pests and diseases, harvest, postharvest, storage and marketing. The category's most prominent resource is "World Carrot Museum" which features a very comprehensive website on carrots. The site contains information about the history of carrots, a list of common carrot varieties, several pages on nutritional aspects of carrots, and information on cultivation of carrot. The website of the Processing Carrot Research Program (PCRP) of the Nova Scotia Agricultural College aims to disseminate processing carrot production techniques and technologies for enhancing yield, quality and profitability to the producers and processors.
The Carrot Research Section of Olericulture.org provides scientific information and links to peer-reviewed papers, journal articles, theses, books, abstracts, and other scholarly literature on carrots. Within this section, an article on "Carrot Production in California" by the University of California Vegetable Research and Information Center covers aspects of carrot cultivation including production areas and seasons, climate requirements, varieties and planting techniques, soils and irrigation, fertilization, integrated pest management (IPM), harvesting and handling and postharvest handling. Two other resources expand on IPM in carrots: the Pacific Northwest Vegetable Extension Group of Washington State University publishes a photo gallery of phytosanitary problems in carrot including diseases, insect and mite pests and parasitic plants while a publication on "Carrot Leaf Blight Diseases and their Management in New York" published by the New York State Integrated Pest Management Program of Cornell University and the New York State IPM covers carrot leaf blights which are caused by two fungal pathogens, Alternaria dauci and Cercospora carotae and one bacterial pathogen, Xanthomonas campestris pv. carotae.
Olericulture.org was launched in 1996 and has emerged as a comprehensive aggregator of websites and science references in the applied life science olericulture. The site is now under new management and has just been republished.
Users who wish to submit their own or their company's information for inclusion in Olericulture.org are welcome to submit their listing through the site. Furthermore, the site maintains a number of RSS feeds which enables users to subscribe to their most favorite topics within the site. Olericulture.org also maintains the Twitter account @Olericulture which currently features 2,587 tweets and 101 followers.
###