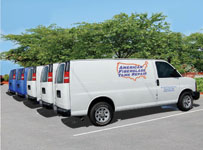 Fiberglass tank repair is partially composites engineering and partially a black art..........
Manchester, New Hampshire (PRWEB) November 21, 2011
American Fiberglass Tank Repair, LLC, previously the Composites Tank Repair Division of AmTech Tank Lining, has launched a new strategized field service program using regional technicians as the field service teams. Serving all of North America and focalizing on the needs of the potable and wastewater industries as well as chemical processing operations, these fiberglass field service teams consist of specialists in the repair of fiberglass nozzles, fiberglass tank leaks, shell cracks, as well as internal corrosion coat restoration on all fiberglass vessels. Engineer-driven, the AFTR field service teams are seasoned technicians trained by the composites engineers who head up the AFTR operation.
Jeff Colner, Senior CS Engineer at AFTR, states that most common are, "calls from facilities engineers and treatment plant operators about municipal and industrial facilities with sodium hydroxide, sodium hypochlorite, ferric chloride, potable water, wastewater or process chemical tank issues. Right now our field teams are on fiberglass tank projects at a U S National Park, a municipal wastewater treatment plant, a fire suppression tank at a Fortune 100 company facility and also are adding and modifying nozzles for a pharmaceutical manufacturer." Colner explains that, "recently we've serviced fiberglass syrup tanks for the largest soft drink manufacturer in the country, inspected a bunch of tanks for an acid processing facility, worked with an international general contractor on a new power plant and installed a new corrosion coat on an industrial process trough."
Asked about the biggest problem in the fiberglass tank service industry, Colner replied, "I'd say repairs attempted with the wrong materials used and the wrong repair practices. We can get called after a company has had a contractor out multiple times for the same issue. Fiberglass tank repair is partially composites engineering and partially black art. Our people know both. It's not uncommon for us to find a resin used on a potable water application that does not meet NSF/ANSI 61 standards. Bad things can leach into water used for drinking, washing or food processing. Materials used and the curing process of the laminate repair are very specialized." Colner continued, "When the materials still are not fully cured and safe to put into service a month later, AFTR may get called."
AFTR field crews are equipped to supply repairs and services to fiberglass vessels in all climates and temperature extremes.
For further information visit http://www.americanfiberglasstank.com, email info(at)americanfiberglasstank(dot)com, or call our Customer Service Engineers directly at (877) 427-0090.
###