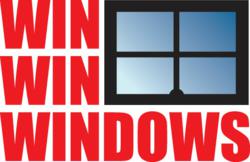 Revere replacement windows have a very attractive profile that is particularly appealing to certain homeowners
Abilene, TX (PRWEB) November 21, 2011
Win Win Windows in Abilene Texas announced today that it has added the Revere line of home replacement windows to be used in special installations. "Revere replacement windows have a very attractive profile that is particularly appealing to certain homeowners" according to Win Win Windows president, Dr. K.B. Massingill. "We are pleased to include it in our offerings."
The Revere window is fusion-welded and constructed of 100% virgin vinyl. Revere offers the BarrierXP insulating glass package to maximize thermal efficiency and energy savings while minimizing the damaging UV rays that cause carpets and furnishings to fade. According to Revere, Barrier XP reduces solar heat gain by almost 48% to help reduce air-conditioning costs, and in winter, BarrierXP increases R-value (resistance to heat flow) by more than 100%. The glass package allows both the Berkshire line, and the Sovereign line to qualify for Energy Star ratings.
Revere replacement windows are built by Revere Building Products and is based out of Akron Ohio. Revere Building Products is a division of Gentek Building Products, Inc.
Win Win Windows also carries the Wincore window line in addition to custom made aluminum replacement windows. Win Win Windows only provides custom windows. Each opening is precision measured and every window is custom made to fit only one opening in your home.
Win Win Windows supplies custom made replacement windows to West-Central Texas. "We emphasize services to the smaller communities in the area" according to Massingill, "The large national providers often charge significant premiums to do custom installations in remote areas, but we thrive on the opportunity provided in these communities, and the loyalty of customers in the area." Win Win Windows seeks to serve communities such as Anson , Stamford, Hamlin, Hawley, Roby, Rotan, Sweetwater, Tuscola, Winters, Ballinger, Bronte, Robert Lee, Santa Anna, Coleman, Cross Plains, Brownwood, Bangs, Early, Rising Star, Cisco, Baird, Clyde, Breckenridge, etc. Win Win Windows is based in Abilene Texas.
###