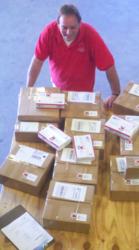 Going flat rate for shipping in response to customer request
(PRWEB) November 21, 2011
As many small packages as you can imagine in one order, all ship for the low flat rate of $7 now at Complete Mobile Home Supply.
The trend of better value for customers on shipping costs has spread to mobile home supplies. "People asked for easy-to-understand shipping, we're giving it to them," says store Director Jotham McCauley. "We still provide individual freight quotes for items that go on 18-wheelers, but if it can go UPS, FedEx or USPS, customer expense tops out at seven dollars." Two or twenty bathroom faucets, or mobile home door locks for yourself or for your entire neighborhood, shipping is $7.
Online shopping has seen various models for shipping expense - including free shipping, flat rate, live rate calculation based on zip code, and high per-item shipping charges. It's clear which end of the spectrum is better for consumers. "The reason we went with flat rate instead of free," explains McCauley, "is the low prices on so many of our stocked items mean that we would in fact lose money with free shipping. Flat rate became the obvious choice to make costs clear to our customers, and ensure we're still around to employ staff members and serve customers again in the future."
Customers experience extraordinary turnaround time of orders from Complete. The majority of items offered online are in-stock in the company warehouse and storefront. The warehouse staff have refined the process of order-to-shipment so that most orders leave the next day, some even same day. CompleteMH.com is the only place you can get mobile home skirting kits shipped so quickly, or vinyl shutters in dozens of colors and sizes. When a customer orders online, their order and packing list are in the warehouse within minutes. Depending on the volume of orders from that morning and the night before, the most recent orders may even get packed up before the 3:00 pickup from UPS and 4:00 for USPS.
Especially on Mondays, when the weekend's orders result in more products needing packed securely, the shipping department is a hive of activity. Bay doors open if it's sunny, men locate mobile home parts, combine items with bubble wrap and packing list, tape up the box, and weigh the box for shipment. The paper record of the order proceeds up to the office, where postage labels are accurately typed in. Sticky labels are printed and brought back out to the boxes, where they're applied based on order number and placed in the appropriate back for the carrier. Tracking numbers are generated and emailed to customers, drivers show up on their shipping route, and on their way to your door the packages go. All this for only $7! What a travel package.
###