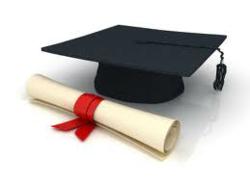 ...it is important for students to try to get that degree as quickly and inexpensively as possible.
Fort Lauderdale, FL (PRWEB) November 21, 2011
With more and more college graduates unable to find work, http://www.TheCareerPeople.com conducted an informal study to find out if recent graduates believe that their degree was worth the loans that they now face.
77.2% said YES.
Education expert Sheila Danzig who helped create the survey was surprised by the overwhelmingly positive response. She felt that it's generally agreed on that we all believe getting a college education is a good thing, especially in a bad economy, but with loans outpacing income she thought that more students would feel it wasn't worth the expense.
The Bureau of Labor Statistics shows that people with college degrees earn more, and have lower unemployment rates.
On the other hand, felt that most of us do not believe that anyone should go tens or hundreds of thousands of dollars in debit to earn a degree, especially for those graduates who don't have jobs.
The survey, conducted by phone in October 2011 by http://www.TheCareerPeople.com found that the overwhelming majority - over 77% - of recent graduates felt that the degree was well worth the time and the expense and they would do it again.
"Let's keep in mind," said education expert Sheila Danzig. Non-graduates are having a much harder time getting jobs than graduates. However, it is important for students to try to get that degree as quickly and inexpensively as possible." she added.
Some options that Danzig suggested were to get a degree from a local community college. Tuition is low, you can live at home and have a local part time job as well.
Another choice would be to test out of a degree. Some colleges offer the ability to test of an entire degree and others allow you test out of a good portion of it.
A popular choice is to convert what you have already learned outside the classroom - such as at work or through travel or a hobby - into college credit. Few people know that this option is available. At many US colleges it accomplished by writing portfolios which show how what you learned parallels what a course would have taught. In addition there is at least one fully accredited non-US program that will accept work experience without a portfolio for college credit.
"When you have a non-US degree you would have the education evaluated as equivalent to a US degree for use in the US for employment or further education", stated Danzig. In most cases it is treated equally to a US degree in the same subject.
For more information on how to obtain a degree with work experience visit http://www.TheCareerPeople.com
###