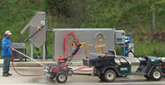 ESD Waste2Water is proud to have helped Hilaman Golf Course achieve the certification
Tallahassee, Florida (PRWEB) November 22, 2011
Hilaman Golf Course, located in Tallahassee, Florida, was recently certified in the Environmental Planning component of the Audubon Cooperative Sanctuary Program (ACSP). ACSP assists golf courses develop effective conservation and wildlife enhancement programs. ESD Waste2Water is proud to have helped Hilaman Golf Course achieve the certification by providing them with top of the line industry wash water equipment including the Grass Clipping / Debris Separator and the Closed Loop Biological Wash Water Recycle System. ESD's wash water recycle system economically removes contaminants so that the water can be reused or recycled for washing, irrigation, or safely discharged into the sewer.
As droughts continue to plague our water supplies, the use of potable water used for green-space maintenance is being continually questioned. Golf courses need to anticipate a countrywide "Green" movement from the government and municipal organizations who will accordingly implement water conservation policies. Invest in water conservation equipment and proactively protect the environment while reducing water and equipment maintenance costs. Every golf course should strive to achieve the Environmental Planning Certification because it satisfies both economic and environmental objectives. All of ESD's wash water recycling systems can be customized to accommodate all golf course needs and water conservation goals.
ESD designs, manufactures, installs and services environmental protection systems for clients across the United States, Canada, Europe, South America and Australia. ESD Waste2Water leads the industry with cutting-edge technology and innovative, low-maintenance designs, backed by superior customer service.
ESD Waste2Water, Inc. is headquartered in a manufacturing and assembly facility in Ocala, Florida. ESD has the expertise and infrastructure to produce equipment for all environmental remediation applications such as and soil groundwater remediation equipment. They also specialize in providing many other environmental solutions such as stationary and portable equipment wash rack stations and other wash water recycling systems for a wide range of customers all over the world. For more information, visit Waste2Water.com.
# # #