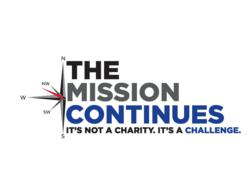 "I know my role now is helping other guys. I am trying to make a difference in the lives of other soldiers… to help them realize there is something more out there for them."
Homestead, Florida (PRWEB) November 20, 2011
Mission Continues Fellow Andrew Berry will join First Lady Michelle Obama and Dr. Jill Biden as a Co-Marshal of this Sunday's Chase for the NASCAR Sprint Cup finale, the Ford 400. NASCAR, Mrs. Obama and Dr. Biden will recognize service members and military families from the local community, including Sergeant Berry, his wife, and their four children, at a special BBQ lunch prior to the race. Mrs. Obama, Dr. Biden and Sergeant Berry will serve as Grand Marshals for the championship race to lead the pre-race ceremony and offer the most famous words in racing: "Gentlemen, start your engines."
While serving as a sniper with the US Army in Iraq, Sergeant Andrew Berry survived two bullets and eight bomb blasts when deployed to Iraq and Afghanistan. However, the last Improvised Explosive Device (IED) left him too injured to continue his military career. He is blind in his right eye, deaf, suffers from seizures due to Traumatic Brain Injury (TBI) and Post Traumatic Stress (PTS). His right leg was crushed, and he now wears a brace to compensate.
Since retiring in September 2009, Sergeant Berry has found renewed purpose through a mission in the civilian world-- service to his fellow veterans. He received a Mission Continues Fellowship, a six-month program that places veterans in civic leadership roles at non-profit organizations, to facilitate his continued service. Andrew is serving at the Orlando Vet Center, and he is committed to supporting his fellow veterans during their often-difficult transitions back to the civilian world.
"Since I retired in September 2009, I've had seven friends – seven – who served with me in Iraq, who have committed suicide and that's something I never want to happen to someone else," said Andrew Berry, Army veteran and Mission Continues Fellow. "I know my role now is helping other guys. I am trying to make a difference in the lives of other soldiers… to help them realize there is something more out there for them."
Berry's Mission Continues Fellowship is just one example of the type of service that Mrs. Obama and Dr. Biden are encouraging through their Joining Forces campaign. The campaign is working to mobilize all sectors of society to give our service members and their families the opportunity and support they have earned. Berry's fellowship fits this model two-fold. First, it provides Berry with the opportunity to rebuild purpose in his life through a new mission of community service. Second, through his work with the Orlando Vet Center, Andrew is providing support to hundreds of other veterans and their families in his community.
Sunday's crowd will consist of 5,000 active duty and retired military personnel and families and thousands of NASCAR fans. As part of the season-ending NASCAR Sprint Cup Championship race, NASCAR will rally its millions of fans at the speedway and online to serve military families through the holiday season by asking them to visit http://www.NASCAR.COM/Unites and JoiningForces.gov to find service opportunities and ideas to give back to those who serve our country.
The NASCAR Sprint Cup Championship Ford 400 will be nationally broadcast live by ESPN and the Motor Racing Network (MRN) starting at 3:00 p.m. ET. Media interested in speaking with Sergeant Berry after the event should contact Mallory Rusch, Communications Director for The Mission Continues, at 314-306-8945 or mrusch(at)missioncontinues(dot)org.
About The Mission Continues
The Mission Continues is a national nonprofit organization that has committed to transform the lives of post-9/11 veterans by challenging them to serve again as civilians. Founded in 2007 when Navy SEAL Eric Greitens returned from Iraq, the organization offers paid service fellowships to veterans, awarding nearly 200 fellowships in 30 states to date. The Mission Continues is reshaping the way this country welcomes home our veterans by showing that these men and women are tremendous assets whose leadership and skills can be vital to their community's improvement. For more information, please visit http://www.missioncontinues.org.
###