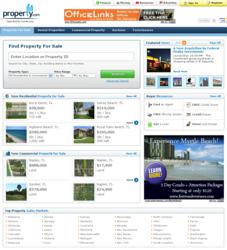 Miami, FL (PRWEB) November 21, 2011
eReal Estate Holdings, LLC, owner and operator of Condo.com and Houses.com, today announced the official launch of their third category-defining domain - Property.com (http://www.property.com). This latest addition extends the Company's online real estate platform into the massive global commercial real estate market. Visitors to the site will have easy access to a comprehensive database of property listings including office space, retail properties, multi-family buildings, warehouses, industrial space and land from around the world. Property.com will also include a large database of residential properties, foreclosures and auctions as part of their initial offering. Global market data and property indices, a database of property managers and daily property news will be added in the coming weeks.
The new category domain, combined with seasoned IT professionals, expert management and a proven online real estate platform, positions Property.com to become the leading portal for commercial real estate and other property asset classes. "Our goal of creating a transparent global marketplace for buyers and sellers has not changed. Launching Property.com allows us capitalize on the global search demand for the term "property", and to leverage the significant investment we've made in software development, licensing and people," stated Richard Swerdlow, CEO of Condo.com, Houses.com and now Property.com.
"The commercial real estate market is massive and rapidly moving online, following the trend set by the residential real estate market over the past few years" stated eReal Estate Holdings, COO, Matt Pluznick. According to a recent report by Jones Lang LaSalle, commercial real estate sales in the U.S. totaled $41.7 billion in Q2 2011, an 82% increase in sales volume from the previous quarter and a 157% increase compared to Q2 of 2010. The commercial real estate market represents over $11 trillion in the U.S. alone in terms of sales, leases and investment. "Property.com will be a valuable online resource to investors, real estate professionals and others that participate in the global commercial real estate market," added Pluznick.
About eReal Estate Holdings
eReal Estate Holdings, LLC owns and operates the category-defining portals Property.com, Houses.com and Condo.com - the world's largest online marketplaces for real estate. The sites showcase over 25 million properties for sale, rent and vacation in the United States and 70+ countries around the world. The sites receive over 1.5 million+ visitors per month and cost-effectively deliver exposure and qualified leads to builders, real estate professionals and homeowners. In addition to property for sale and rent, site visitors have access to a wide variety of real estate-related products and services including mortgages, credit repair, home improvement, moving and more. The Company is privately held and headquartered in Miami, Florida. For more information, please visit Property.com (http://www.property.com), Houses.com (http://www.houses.com) and Condo.com (http://www.condo.com).
###