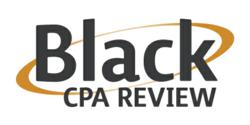 ...one fixed purpose: to offer more effective, and more extensive, review materials...and at a better price...
(PRWEB) November 21, 2011
2011 has brought an important addition to the world of CPA review with the roll out of Black CPA Review. Paul Black, creator of Black CPA Review, began the new business with one fixed purpose: to offer more effective, and more extensive, review materials… and at a better price… than anything else on the market.
Black understands that CPA candidates need focused study tools that don't break the bank. Black's review materials also present tools geared to diverse learning styles.
As a result, Black offers four types of study materials in one packaged product. For example, if a student purchases the Auditing exam product, the student will receive Black CPA Review's chapter outline book, audio chapters, video instruction, and review cards. And all the material was developed with the help of a curriculum specialist in order to target the product to a variety of learning styles.
In fact, this attention to diversity in learning styles makes Black CPA Review unique and competitive in this market. In addition to offering a variety of review methods, students can purchase a version of the product that is entirely online and downloadable, or they can opt to buy the hard copy course and have all the materials, CDs, DVDs, books and review cards mailed to them directly.
"I want to remove some of the unknowns," Black states. In preparing for his own CPA exams, and after passing them, Black reflected that most CPA review materials provide the student with too much unnecessary information with no way to prioritize it and few tools to memorize it. Black's company vision is to help students maximize their time in an economic climate which rarely allows students to review full time. "I want students to be provided with review materials on-the-go, so they can study to and from work and on lunch breaks."
During the roll out of Black CPA Review, students can participate in the grand opening sale prices. For more information, visit http://www.blackcpareview.com.
###