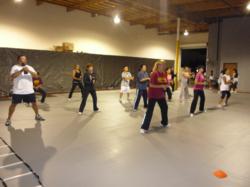 "Every choice you make has an end result." ~Zig Ziglar
Chino Hills, Ca (PRWEB) November 23, 2011
The Camp, a high profile fitness club in Chino Hills, California, has recently announced the implementation of their Chino Hills Boot Camp at their local facility. The boot camp is intended to help those who attend lose a significant amount of weight in a healthy, safe manner.
Dr. Sam Bakhtiar, the co-owner of The Camp Boot Camp, has also stated that he guarantees that those who sign up will lose weight, or he will refund their money. Dr. Bakhtiar's programs are all custom made, and tailored to each individual.
The Camp features a plethora of testimonials on their website from satisfied clients who have lost a significant amount of weight in a short period of time.
"My trainer keeps my customized workouts and creative and fresh in order to maximize the results for my body." said Yvette Scamperino, a client of Dr. Bakhtiars at Fitness Concepts. "I appreciate his expertise, strong desire to see me succeed, his positive mental attitude, and motivational approach to my workouts. "
Dr. Bakhtiar recommends taking advantage of the free consultation before beginning the boot camp. Different types of exercise work well for different people, therefore talking to a professional before starting a workout plan is ideal. Anyone who is interested in improving their health, fitness level and starting a new healthy lifestyle is encouraged to take advantage of the free consultation before starting an exercise program.
For more information on the free consultation, to register for the boot camp in Chino Hills, or to shed unwanted fat and increase muscle tone, call (909) 693-5303 or visit the website http://www.fitconcepts.com.
About Chino Hills Boot Camp
Chino Hills Boot Camp is an intense boot camp that is run by Fitness Concepts. Chino Hills Boot Camp is guaranteed to help people lose weight and build muscle. Fitness Concepts is a personal training company consisting of many talented and caring individual trainers. Fitness Concepts has developed their programs through extensive research, proper training, nutrition and supplementation, and also believe in client education as well as long term client health and success.
For addition information about The Camp Boot Camp, or to sign up for the Chino Hills Boot Camp, contact
The Camp
14658 Central Avenue
Chino, California
91710
Phone: (909) 693-5303
Email: Alejandra(at)TheCampBootCamp(dot)com
###