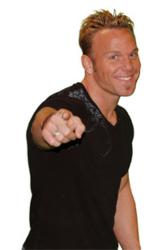 "One may walk over the highest mountain one step at a time." ~John Wanamaker
Chino Hills, Ca (PRWEB) November 24, 2011
The Camp Boot Camp has recently announced that Chino Hills Boot Camp, a popular boot camp for fitness enthusiasts, will be offering a free, no obligation consultation with one of The Camp trainers. The Camp in located in Chino Hills, Ca, and is a reputable training facility for many outgoing, fitness enthusiasts.
The free consultation will be with the most highly regarded Chino Hills personal trainer, "Mr. Los Angeles" Dr Saman Bakhtiar. Dr Bakhtiar was the 2005 bodybuilding champion, and has dedicated his life to personal training, fitness and helping others achieve a healthy lifestyle.
"After I became pregnant with my twin boys I reached a "discomfort" level that made my life feel miserable," said Linda Walker, one of Dr. Bakhtiar's clients. "I joined Fitness Concepts and got the privilege to be trained by Dr. Saman Bakhtiar. He really listened to my dreams of wanting a new healthy life. With his knowledge he walked with me-step by step- to make it happen. Dr. Bakhtiar customized every workout, andnurtured me to success. I have now reached my goal of wearing shorts again! I've lost 52 pounds & 32 inches off my body, and now living a new and healthy life style."
After the free consultation, Dr. Bakhtiar will help clients decide whether or not the Chino Hills Boot Camp is right for them. While boot camps are often excellent ways to get into shape, some people require a more thorough assessment before beginning strenuous activity. Anyone who is interested in the boot camp or general fitness is encouraged to take advantage of this offer before starting an exercise program.
For more information, to register for the boot camp in Chino Hills, or to shed unwanted fat and get toned once and for all, call (909) 693-5303 or visit the website http://www.thecampbootcamp.com
About Chino Hills Boot Camp
Chino Hills Boot Camp is run by Fitness Concepts, which is a personal training company consisting of many talented and caring individual trainers. The Camp develops their programs through proper training, nutrition and supplementation, and also believe in client education and long term client health and success.
For addition information about Fitness Concepts, or to sign up for the boot camp in Chino Hills, contact
The Camp
14658 Central Avenue
Chino, California
91710
Phone: (909) 693-5303
###