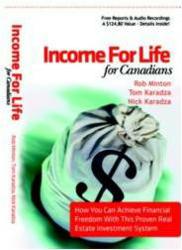 There is NO Real Estate Bubble in Canada!" says Real Estate Educator, Nick Karadza.
Toronto, Canada (PRWEB) November 20, 2011
Learn why, for the rest of November, Real Estate Investment Educators, Tom and Nick Karadza, are giving away their Canadian real estate investing strategies in an FREE Real Estate Investing book, "Income For Life for Canadians." For your free copy, visit: http://www.FreeCanadianBook.com.
After spending thousands of dollars on attending real estate classes, "guru lead" conferences, seminars and boot camps, and "millionaire" online courses, real estate educators and investors Tom and Nick Karadza had discovered a major problem. They couldn't find any highly publicized real estate investors who were actually implementing the investing strategies they were teaching, much less even making a profit from their investments. All the "Real Estate Gurus" where making money from teaching "out dated strategies," not from actual real estate investments. Even worse, they discovered many real estate students turned novice investors had horror stories of bad properties, lousy tenants, and negative cash flow challenges.
According to Tom Karadza, "Instead of making any money in real estate many investment students we spoke with were actually losing money with their investments, and instead of creating any sort of wealth, only managed to create regular head aches."
This startling problem prompted brothers Tom and Nick to seek the truth behind why so many beginner and experienced investors continue to be robbed of their wealth.
A bold move was necessary to learn the answers about really making money in today's real estate market. In their quest for the truth they traveled across North America meeting with successful, real money making investors to learn the secrets behind their successes. After months of speaking with Real Estate Investment Trust (REIT) managers, and the heads of Asset Management and Loss Mitigation Departments and Senior Vice Presidents of North American's largest banks, Tom and Nick went on to implement what they had learned and began helping others do the same. After repeated success they decided to open up Rock Star Real Estate Inc, a brokerage just outside Toronto, Ontario dedicated to working exclusively with real estate investors - the first ever of its kind in Canada.
According to Nick, "The biggest problem we found real estate investors faced, in addition to the right information, was a lack of local support." With a network of experienced people to turn to for mentorship and guidance, both the beginner and experienced investors can go on to achieve amazing success and are able to generate more positive cash flow on properties than almost anybody thought possible. "It's been really exciting to be able to help investors create positive cash flow investments and build a portfolio of assets, and ultimately wealth," said Tom.
Tony and Marilou Soria, recent clients from Mississauga, Ontario, had this to say, "We are very happy to have Tom and Nick Karadza as our real estate investment coaches. We would not be able to start and grow our real estate investing business without their guidance. Sometimes we feel they are doing this from the kindness of their hearts." It's not difficult to see why Tom and Nick have received this kind of feedback given their dedication to excellence in all areas of real estate. Together with their clients they created over $804,867 in monthly revenue in a 4 year period.
There seems to be no stopping the brothers, the National Post newspaper referred to them as "two brothers who never seem to sleep" and Canadian Real Estate Magazine interviewed them for multiple issues of their nationally distributed publication.
Rock Star Real Estate Inc.
3310 South Service Road, Suite 300
Burlington, Ontario, L7N 3M6
Canada
Phone: 416- 848-6293
Fax: 905-637-7712
http://www.RockStarBrokerage.com
"We Support The H.O.M.E. Foundation"
About The H.O.M.E. Foundation:
The Helping Others Means Everything, or The H.O.M.E. Foundation, is a not-for-profit organization dedicated to helping our Family of Charities during these tough economic times through added incentives, luxury raffles and high profile celebrity events. Our mission is to help charities reach their fundraising goals and to bring awareness to their praiseworthy causes. Please visit our Dream Home Raffle at: http://www.HOMEFoundationRaffle.com .
###