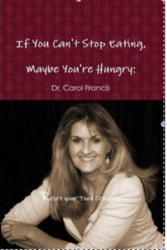 Viewing food as entertainment and nutrition frees women to eat with freedom not fear.
Los Angeles, California (PRWEB) November 27, 2011
Psychologist Dr. Carol Francis explores more causes and cures of eating disorders. In her interview with Psychotherapist Darlene Manick, owner of Safe Harbor which is an Eating Disorder Clinic in the Los Angeles, California area. Dr. Carol Francis explores bulimia, anorexia nervosa, binge and purge cycles and their various dangers and remedies with director, Darlene Manick.
Women who face the holiday parties and high calorie treats of Thanksgiving, Christmas, New Years and company parties, need to develop a normal relationship with food. "Food at parties does not mean you have to eat what is there. More often than not, the fun is in the conversations, dances, music, good cheer at the gala. However, when women have developed an awkward extreme focus upon what they cannot eat, their subconscious mind begins to focus upon what they are missing out on as if they are really being deprived," Dr. Carol Francis suggests.
Dr. Carol Francis, who is a Clinical Psychologist as well as a Certified Medical Hypnotherapist explains, "Eating may have a lot to do with hunger and nutritional needs under normal circumstances. During holidays however, food represents warmth, sweet indulgences, opportunity, and entertaining flavors. Our subconscious is trained to believe that we will be missing-out if we miss the opportunity to eat those treats. Of course that is an absolute lie. LIkely those foods will be available at any time of the year and we could easily enjoy them in moderation later or take a pleasant nibble at the parties. So enjoy the people and your emotional connections with the activities and eat the foods without feeling you have to have them."
Dr. Carol Francis discusses these issues more in her book,"If You Can't Stop Eating, Maybe You're Hungry: Reset Your Cravings." You can order this helpful book at DrCarolFrancis.com or at the link above.
Dr. Darlene Manick offers great advice in this interview about catching yourself in the plight of eating disorders quickly and returning to the pleasures of taking care of your health.
Dr. Carol Francis, drcarolfrancis.com, bodymindsculpting.com evolvingwomensconsciousness.com 310-543-1824. EBOOK available too;"If You Can't Stop Eating, Maybe You're Hungry: Reset Your Cravings"
###