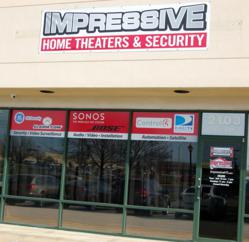 "Our Company is unique in its ability to design, install and support electronic systems for customers at a time when electronics are getting more confusing daily. We provide a total solution for home video, audio, and security needs."
Bloomington, IL (PRWEB) November 21, 2011
Impressive Home Theaters and Security has opened a new state of the art home theater and home security electronics showroom located at 2103 N. Veterans Parkway in the Parkway Plaza. This new retail location has been created specifically as an alternative to the impersonal big chain outlets. Whether building a new home, remodeling or just considering a new home audio/video gallery or home security system, Impressive Home Theaters and Security can help.
Locally owned by Illinois Wesleyan graduate Dustin LaFond, started Impressive Home Theaters, Inc. in 2003 to initially sell and install projection home theaters. Shortly after opening the business expanded into a full service custom audio/video integrator installing home automation systems, televisions, surround sound, whole-house audio and DIRECTV satellite systems. The business continued to evolve as demand grew within the community for a local business to provide and service monitored security and surveillance systems. After going through the extensive necessary state licensing, Impressive Home Security, Inc. opened in January of 2007.
The company will maintain its existing showroom at 403 Bronco Drive in Bloomington while using its new retail location to expand awareness of the companies total product lines and capabilities, while creating new career opportunities in the Bloomington/Normal community. While many companies have closed their doors Impressive continues to expand and has taken on Goliath by opening their new retail location next door to the largest electronics retailer in the country. How and why would they do this? LaFond's business philosophy puts the customer back into customer service and the customer experience. This team excels at exceeding customer expectations. They turn customers into raving fans. LaFond states, "The Company is unique in its ability to design, install and support electronic systems for customers at a time when electronics are getting more confusing daily. Impressive Home Theaters and Security offers free in-home consultations and personalized customer service that stretches beyond the initial sale. The company's success is attributed to the reliability of their products, the experience of their employees, the quality of installations and their uncompromising commitment to customer satisfaction."
Impressive Home Theaters and Security works with clients to create a customized high-performance experience. They build individualized packages that are affordable, easy to operate and built by brand leaders in their industries. In fact, many of their products are not available in large retail chains. These products include: LED, LCD and Plasma Flat Panel HDTV's. For a total home theater solution, they offer large screen front projection systems, lighting control and automation systems, distributed audio and an expansive assortment of high-quality speakers and audio receivers.
Security systems are another product line available to both residential and corporate customers. Using top quality products like GE Security, the company is able to offer competitive pricing with superior local service to provide clients with both protection and peace of mind. The combined product line of home theaters and security systems makes Impressive Home Theaters and Security the only business in the Bloomington/Normal area to provide complete low voltage system integration.
About Impressive Home Theaters and Security
Based in Bloomington, Illinois, Impressive Home Theaters and Security specializes in the sales, design and installation of individually customized Home Theater Systems, Automation, Whole-House Music and Surround Sound Systems in Central Illinois. Monitored Security systems and video surveillance are available for both residential and corporate clients. Impressive is also an authorized independent DIRECTV and BOSE dealer.
For more information, call or visit the showroom:
403 Bronco Drive, Suite 3
Bloomington, IL 61704
Phone: 309-661-3234
Toll Free: 1-866-U LOVE HD (1-866-856-8343)
http://www.impressivehometheaters.com/
###