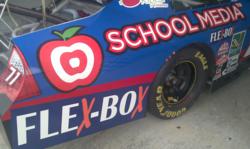 We have a passion and a purpose to both inspire kids and help schools in dire financial straits.
Minneapolis, MN (PRWEB) November 21, 2011
School Advertising Leader School Media, which brings positive and inspiring messages to districts in desperate need of financial help, is excited to announce a new partnership with NASCAR Team TRG Motorsports and its No. 71 car.
Based in Minneapolis, School Media partners with businesses interested in school advertising to bring positive messages focused on health, nutrition, education and safety into schools across the United States.
"We have a passion and a purpose to both inspire kids and help schools in dire financial straits," said School Media President Greg Meyer. "Partnering with a forward-thinking group like TRG Motorsports is going to help spread our message to millions and millions of teachers, administrators and students across the country. We're thrilled to have this opportunity and grateful Kevin Buckler and his team share our vision and our passion to help kids and improve our schools."
School Media's logo and website were featured prominently on the front hood and side panels of TRG Motorsports' No. 71 car during the Subway Fresh Fit 500 at Phoenix International Raceway and in the season-ending Ford 400 at Homestead-Miami Speedway.
"Our brand of school advertising isn't about pushing potato chips or soda pop on kids," Meyer said. "It's about encouraging the type of healthy, safe, smart and sensible lifestyle all parents and teachers strive to instill in our children. Our advertisers must adhere to a strict set of standards. At the same time, we help thousands of schools across the country raise additional revenue that helps them hire more teachers, purchase more books and computers and fund important programs that otherwise couldn't exist."
TRG Motorsports is a full-service motorsports company with its NASCAR operations headquartered in Mooresville, North Carolina. The team fields a NASCAR Sprint Cup Series entry and has the capacity to run ARCA, Nationwide and the Camping World Truck Series.
"We are really excited to welcome School Media to our team," said TRG Team Owner Kevin Buckler. "This is a great opportunity for School Media to not only to have on-track exposure for a great cause, but to spend some time getting to know NASCAR and what the most powerful marketing program on the planet can do for a company."
###