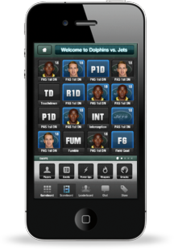 We are very excited to launch Football Connect and bring gamification to live NFL games.
Palm Beach, FL (PRWEB) November 21, 2011
OneUp Games has launched its newest game Football Connect, the first ever live-play casual social sports game for the iPhone and iPod Touch. NFL fans can download the app for free in iTunes and play instantly by signing up through Facebook Connect - just in time for family and friends to compete live at Thanksgiving viewing parties and during all of the big games with playoff implications.
More than just another fantasy sports app or social game, OneUp Games has developed a global live-play, sports-based social gaming platform that makes watching favorite NFL teams on Sunday more fun and rewarding. The social gaming app allows fans to play during any live game, whether they're at home, at a sports bar, or in-person at the stadium.
Football Connect is a bingo type social game based on live game events (plays) during NFL games. Players start with random digital game cards that contain the many different plays that happen during Football games, such as touchdowns, first downs, interceptions, fumbles, etc. Players use strategy and game knowledge to earn more points by swapping the events with a specific player event (e.g. Aaron Rodgers TD pass) or they can play it safe and pick the team (Packers TD). When a row or "connect" is unlocked by successfully predicting a series of events, the player earns points while competing against friends.
"We are very excited to launch Football Connect and bring 'gamification' to live NFL games," said Daren Trousdell, OneUp Games CEO. "The great thing about Football Connect is fans of all ages and levels of interest can compete and have fun. Casual fans will enjoy watching games more as they compete and interact with friends, while die-hard fans can make strategic swaps to try to outsmart the competition."
OneUp Games is the future of live social gaming. OneUp Games is leading the "gamification" of live sports by offering other game-makers and developers the opportunity to create their own experiences using our live event data, social-game engine and rewards platform through our open API which will be live early in 2012.
Football Connect is now available for the iPhone and iPod Touch and can be downloaded for free in iTunes.
For more information please visit http://www.1up.me
About OneUp Games
OneUp Games is dedicated to creating the most enjoyable social sports applications in the world. More than just another fantasy sports application or social game, OneUp Games builds game formats that allow casual or diehard sports fans to watch games in real time, interact with their friends and compete for real prizes. Play across the country, play it at the sports bar or play it while you're at the game. With OneUp Games, your game is anywhere you are!
Based in beautiful South Florida, OneUp Games was founded by digital agency veteran Daren Trousdell, former CEO of leading digital marketing agency Mindblossom, which was acquired by Aegis Media in 2007 and merged into the global Isobar group.
###