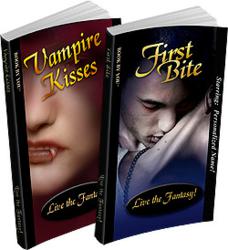 Book By You is racing to keep up with demand for its personalized vampire and werewolf books
London, Ontario (PRWEB) November 21, 2011
As Twilight fans lineup to see the penultimate Twilight film, Breaking Dawn Part 1, Book By You®, Publisher, Mike Pocock races to keep up with the demand for his personalized vampire and werewolf romance books. Twilight devotees can cater to their wilder side and star along with friends in any of the company's four award winning paranormal romances.
For "Team Edward" devotees that thirst for a captivating vampire, there's First Bite and its dramatic tale of forbidden love between an immortal hero and a brave young heroine. Sparks fly when they meet, but our teen heroine suspects something is very different about the man she loves.
Or if you're a "Team Jacob" buff and go wild for werewolves, suspenseful Night Wolf will leave you panting for more as a modern teen is swept back in time to Victorian London, where she joins a dashing detective on the hunt for a serial killer called The Beast. Unbeknownst to her the handsome young hero is a werewolf--and might be the killer they're seeking. A personalized werewolf novel you can't put down. The company also offers these thrilling romances in a steamier version for adults: Vampire Kisses and Fierce Moon.
Twilight fans can co-author First Bite and Night Wolf by selecting the names and features for the four main characters in the books. Readers can include best friends, a significant other or Hollywood stars—even include a pet. The characters' hair color, eye color, figure, favorite restaurant and drink are some of the story's 26 personalized characteristics that result in thousands of personalizations in each of these 200-page books.
Founder of Book By You® Mike Pocock commented, "First Bite and Night Wolf are perfect for everyone who's been mesmerized by the Twilight movies and books. We've taken vampire story-telling to the next level by introducing a mysterious teen-oriented storyline that readers can personalize. First Bite includes the tense drama of star-crossed love, together with classic vampire legends and even dark humor. With the holidays fast approaching and the release of the new Twilight movie, Breaking Dawn, we're racing to keep up with demand for our personalized paranormal novels."
To purchase a personalized novel, vampire and werewolf lovers go to the company's website at BookByYou.com and complete a character questionnaire specifying the information to be included in their book. The company offers a free demonstration area where readers can preview personalized excerpts from any of the company's teen, romance, mystery or children's personalized books. Media interviews are available upon request and additional information and promotional images are available upon request.
###