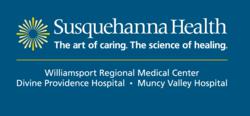 With the medical research supporting this practice, we wanted it in place to give our patients the chance for the best possible outcome.
Williamsport, PA (PRWEB) November 22, 2011
Less than two years ago, Susquehanna Health implemented a relatively new medical treatment known as induced hypothermia, or therapeutic hypothermia, which chills the body of an unconscious adult patient suffering cardiac arrest to reduce metabolism and preserve brain function. "Current statistics indicate that Susquehanna Health is performing better than the national average for induced hypothermia—which according to research published by Medscape Reference indicates the total number needed to treat (NNT) to show benefit is six," said Susquehanna Regional Emergency Medical Services (EMS) Paramedic Supervisor Jason Zielewicz. In other words, in the U.S., one out of every six patients shows benefit. According to Zielewicz, the NNT for induced hypothermia is much lower (or better) than many other widely accepted treatments.
Taking the necessary steps to prevent or minimize brain damage is important to the quality of life of cardiac arrest survivors. When the heart stops, the brain is deprived of vital blood and oxygen which can result in tissue damage after just a few minutes. Research indicates that induced hypothermia protects the brain by lowering the body's normal temperature from 98.6 degrees Fahrenheit to 91.4 degrees Fahrenheit (33 degrees Celsius). The treatment slows metabolism and gives the brain an opportunity to rest and recover from the lack of oxygen.
"With the medical research supporting this practice, we wanted it in place to give our patients the chance for the best possible outcome," said Dr. William C. McCauley, a critical care doctor at Susquehanna Health. "Professionals at every step of a cardiac arrest patient's care play a crucial role in providing this cutting-edge treatment." The treatment works best when applied within 30 to 60 minutes of the arrest, so the seamless arctic alert process starts on the front line with emergency responders.
According to Zielewicz, paramedics complete a neurological assessment and begin induced hypothermia therapy once a patient suffering cardiac arrest is resuscitated and spontaneous circulation has returned. Then, two saline intravenous (IV) infusions that have been cooled in the ambulance refrigerator to 39.2 degrees Fahrenheit (4 degrees Celsius) are administered. Ice packs are also placed at the patient's armpits and groin area, and an arctic alert is transmitted by EMS to prepare the Williamsport Regional Medical Center's Emergency Department (ED) and Intensive Care Unit (ICU) staff for response.
Upon arrival at the ED, the patient is placed in an external cooling system with a jacket for the torso and sleeves for the legs to maintain the reduced core temperature. The patient is transported to the ICU for 24 hours of cooling. An ICU nurse continuously monitors the patient's body temperature and shivering is controlled with medication. When the induced hypothermia treatment is complete, the patient remains in the ICU and is slowly warmed for the next 12 to 18 hours. Most induced hypothermia patients are hospitalized for at least five days.
Despite its success rate, research conducted at Penn State Hershey Medical Center indicates that hospitals across the national are slow to warm up to the treatment. Zielewicz believes this may be due to the hurdles of implementing new processes. "When treatments are new, people are often hesitant to implement them or the process of implementing is difficult, said Zielewicz. "Our goal is that patients who suffer cardiac arrest continue being treated in accordance with the AHA guidelines—with 100 percent compliance—to ensure that everyone is getting the care they need." While the program at SH is still in its infancy, statistics on induced hypothermia are promising. "That a patient can potentially survive cardiac arrest with no impairment is the best outcome we can hope for, said critical care nurse Wendy Batschelet, RN, BSN, CCRN. "We have everything in place to help make that happen."
About Susquehanna Health
Susquehanna Health is a three-hospital integrated health system including Divine Providence Hospital, Muncy Valley Hospital and Williamsport Regional Medical Center located in northcentral Pennsylvania. Serving patients from an 11-county region, Susquehanna Health is a healthcare leader and has been recognized at the national and state levels for quality of care. Susquehanna Health offers a wide array of services that include cancer treatment, heart and vascular care/heart surgery, neurosciences including neurosurgery, orthopedics, urology, OB/GYN, gastrointestinal services, behavioral health, physical rehabilitation, home care, long term care, assisted living and paramedic/ambulance services.
###