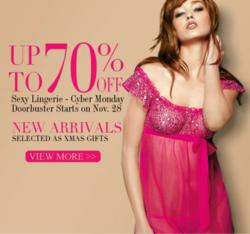 The crazy sale is limited to one day only, and the quantity of new arrivals is limited too.
(PRWEB) November 21, 2011
Cyber Monday is a marketing term for the Monday immediately following Black Friday, when various promotions take place online. As an outstanding lingerie retailer, Thesexylingerie.co.uk has prepared well for the coming Cyber Monday, and declared that drastic discounts (up to 70% off) and free shipping are available site-wide on November 28th. What's more, in response to customers' feedback, Thesexylingerie.co.uk will launch several new styles of Sexy Costumes to satisfy growing customer demand.
Thesexylingerie.co.uk is a one-stop online store with an incredible collection of sexy outfits for both men and women of different sizes. It has been popular because of its sexy lingerie such as body-hugging corsets, beautiful babydolls, fabulous clubwear, seductive teddies, and the like. In addition, a wide range of sexy accessories also enhances the store's attractiveness.
However, Thesexylingerie.co.uk never settles for what they have done, and always strives for what they can achieve. This is the reason they have launched more fancy costumes for the unveiling of Cyber Monday.
"Cyber Monday 2011 is coming here on November 28. It's well known and famous as the biggest online shopping or spending day of the year. As well, it is worthy of the busiest online shopping day. Never would an online retailer ignore such a smart business opportunity, and neither will we," said Lily Chen, the Marketing Director of Thesexylingerie.co.uk.
Lily spoke passionately of this important day, and regarded it as a great chance to do business. She also specially pointed out that it would be the best choice for customers to save big money during the year. Online shoppers are expected to spend between £350-450 million on Christmas gifts during Cyber Monday sales. It's really the biggest day in terms of sales and many people would be paid on that day.
For fashion-conscious women who have been hit by the economic downturn, Thesexylingerie.co.uk is exactly such a tailor. Validating the holiday shopping season's latest buzz phrase - Cyber Monday Sale kicks off at 00:00 GMT, Nov. 28, Thesexylingerie.co.uk promises to offer discounted prices for all the products for that 24 hour period. Customers are able to enjoy up to 70% off sexy lingerie and free shipping for any order. Here are some specific details:
70% off hot styles, 40% off new arrivals and sexy costumes, and 20% off others. Plus, free shipping is available store-wide.
"The crazy sale is limited to one day only, and the quantity of new arrivals is limited too," Lily kindly suggested, "It's better to take advantage of high-speed Internet connections, or it would be wise to add your favourite styles to your wishlist before the campaign begins."
For more information, please visit http://www.thesexylingerie.co.uk/.
About Thesexylingerie.co.uk
Thesexylingerie.co.uk is a leading online store that provides customers with sexy lingerie for both men and women. Aiming to offer a refreshing experience for customers around the world, Thesexylingerie.co.uk is exerting great efforts to deliver an untrammeled life free from restraints and full of passion in every possible way.
###