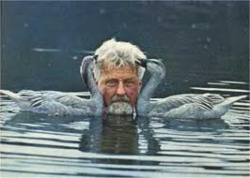 EurekaMag.com - Biological Sciences Articles
Mannheim, Germany (PRWEB) November 22, 2011
The Science Magazine EurekaMag.com covers a wide range of topics including biology, agriculture, horticulture, forestry, geography, environment and health. Drawing from this pool of scientific disciplines, it publishes articles on biological topics which have recently become popular. Most of these reviews are included in the Sciences Keywords Category of EurekaMag.com.
The article on the Nobel Prize winner Konrad Lorenz covers aspects of the Austrian zoologist, ethologist, and ornithologist's work on animal behavior (ethology). As one of the founders of modern ethology Lorenz's sharply distinguished between instinctive and learnt behavior in animals. In his classical studies on newly hatched goslings Konrad Lorenz analyzed the development of social binding and termed this process "imprinting". One of his major ideas was that imprinting occurs in "critical periods", which are restricted to the animal's very early life.
The FYVE zinc finger domain is named after the four cysteine-rich proteins Fab 1, YOTB, Vac 1 and EEA1 and is connected to vacuolar protein sorting and endosome function. Several human proteins contain this domain. The article at EurekaMag.com explains that Hrs, an adaptor molecule involved in protein sorting, associates with phagosomes prior to their fusion with late endosomes or lysosomes. Recruitment of Hrs required the interaction of its FYVE domain with phosphatidylinositol-phosphate and two other attachment sites. Hrs has a FYVE double zinc finger domain, which specifically binds phosphatidylinositol-phosphate and is conserved in several proteins involved in vesicular traffic.
Butea monosperma is a dry season-deciduous tree native to tropical and sub-tropical parts of the Indian Subcontinent and Southeast Asia and is used for timber, resin, fodder, medicine, and dye. The article on the tree which is commonly named Palash or Parrot Tree covers a study on tropical deciduous dry forests, dominated by several tree species including Butea monosperma. The authors found significant differences in litterfall between the sites. It also describes the tree's value as a medicinal plant for various ailments. In an experiment with rats the water soluble part of ethanolic extract of flowers of Butea monosperma induced elevation of brain serotonin and plasma corticosterone levels. Butea monosperma flowers, consequently, possess antistress activity.
The Science Magazine EurekaMag.com was launched in November 1998 as the online version of the French science magazine "Eurêka - Le magazine des sciences" published since 1995. During the past decade, it has emerged as a comprehensive aggregator of information on biology, on the applied life sciences agriculture, horticulture and forestry, on the earth sciences, on the environmental sciences, and on the health sciences.
The Science Magazine has recently been accredited by the Chinese Ministry of Information Industry with the registration number 案ICP备10204677号. The site delivers its content through a number of RSS feeds and an @EurekaMag Twitter account. The latter Twitter account currently features 43,742 tweets and 722 followers. The site accepts advertisements through the Google AdWords system.
###