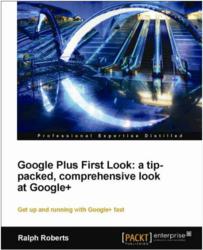 UK (PRWEB) November 21, 2011
Birmingham: Packt Publishing is pleased to announce Google Plus First Look: a tip-packed, comprehensive look at Google+. Written the leading technology author, Ralph Roberts, this book enables readers to get hands on with Google+ quickly and easily. The book is scheduled for publication in January 2012.
What is Google+? Google+ is Google's foray into the world of social networking. Involving innovative functionality such as Google Circles, Hangouts, and Master Streams, Google+ offers a first rate and forward looking experience for Google plussers.
Packt's Google Plus First Look book covers various topic areas including:

The basics of Plus
Getting everyone in Circles
Working with built-in video chat and related features
Using Google+ on your mobile
Promoting on Plus
And more
Google books from Packt. Packt Publishing is one of the world's leading publishers on Google technologies. The company has published numerous books on Google technologies including:
Google App Engine Java and GWT Application Development
Google Apps: Mastering Integration and Customization
Ext GWT 2.0: Beginner's Guide
Google App Inventor
SketchUp 7.1 for Architectural Visualization: Beginner's Guide
All Packt's Google titles can be found on Packt's Google Category page.
About Packt. Packt Publishing is one of the world's leading publishers of books and eBooks for IT Professionals and non-Professionals. The company recently launched PacktLib, its own library platform. For a low annual or monthly subscription, readers are able to read, copy, paste and print all the books in the Packt catalogue through any web connected browser.
###