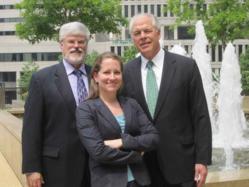 The Best Lawyers in America® 2012 Tier One Best Law Firm in Baltimore for Admiralty & Maritime Law
Baltimore, MD (PRWEB) November 29, 2011
Wright, Constable & Skeen (WC&S) has been selected by The Best Lawyers in America® as a Tier One Best Law Firm in Baltimore, Maryland for Admiralty and Maritime Law for 2011-2012.
Best Lawyers®' mission is to guide other lawyers and clients—from the country's largest companies needing legal advice to individuals needing advice on personal matters—to lawyers who can produce a high level of legal work on complex issues in various legal specialties.
WC&S' Maritime Law practice group is comprised of Partners David W. Skeen, Esq. and Stephen F. White, Esq., who are both "Proctors-in-Admiralty" with the Maritime Law Association of the United States. Mr. Skeen also was recognized individually in Best Lawyers 2012 survey of leading attorneys for Admiralty & Maritime law and Mediation law. He has been named to Best Lawyers every year since 1989. Mr. White also was recognized individually in Best Lawyers' 2012 survey of leading attorneys for Admiralty & Maritime law. He has been named to Best Lawyers since 2008. Meighan Griffin Burton, Esq., is an associate in the Maritime Law practice.
Wright, Constable & Skeen and its predecessors have served the maritime and transportation community in the Mid-Atlantic region from the firm's Baltimore, Maryland offices for more than one hundred years. The WC&S Maritime Law practice group handles matters for domestic and international clients related to the commercial shipping industry and the recreational boating industry, including
Vessel arrests and attachments
Maritime liens
Commercial disputes relating to charters, contracts, marine insurance, trucking railroad and Warehouse claims
Claims under the Jones Act and Longshore and Harbor Workers Compensation Act
Personal injury and death claims
Towing and salvage
Mortgage foreclosures
Maritime claims in bankruptcy, collision, products liability, cargo and property damage
Marine insurance subrogation
Marinas, repair yards, slip rental agreements
U.S. News Media Group and Best Lawyers® announced the national and metropolitan rankings in U.S. News & World Report's Money issue (November 15, 2011) and in a "Best Law Firms" standalone publication distributed to 30,000 general counsel and 58,000 private practice lawyers worldwide.
About Wright, Constable & Skeen, L.L.P.
http://www.wcslaw.com
100 N. Charles Street, 16th Floor
Baltimore, MD 21201-3812
Phone: 410-659-1300
Fax: 410-659-1350
Baltimore-based Wright, Constable & Skeen (WC&S) is a full service law firm meeting the legal needs of Maryland businesses and residents for over a century. Along with the Maritime and Transportation practice group, the firm's diverse practice areas include Bankruptcy & Creditors' Rights, Construction Law, Corporate & Business, Employment & Labor Law, Estates & Trusts, Family Law, Government Contracts, Insurance Defense, Litigation, Mediation & Arbitration, Non-profits, Real Estate, and Surety & Fidelity Law. WC&S is a member of The Harmonie Group, a national network of vetted, invitation-only independent law firms.
###