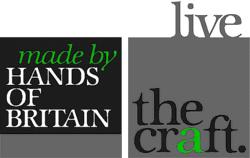 "Buying hand-made gifts not only supports our artisan communities, it also means we give our loved ones items that are more enduring and that prove their worth over the years."
Manchester, UK (PRWEB UK) 21 November 2011
Made by Hands of Britain, the boutique online marketplace featuring the finest in British craft and design for home and garden, has launched its new Christmas collection of distinctive artisan-produced Christmas gifts and home accessories.
Inspired by a love and appreciation for British craft and design, Cheshire-based Gillian Montegrande founded the award-winning website one year ago. The website brings together over 190 of Britain's finest artisans together under one virtual roof to offer discerning customers a unique umbrella shopping experience that offers a wide array of unique and inspiring items that can't be sourced from the high street.
The new online Christmas gifts and home accessories collection features contributions from artists who have recently joined Made by Hands of Britain. New artists include Ruth Berenbaum, maker of specialist flame worked borosilicate glass jewellery, Juan José Montegrande, an artist whose canvases have been exhibited at the Whitworth Art Gallery in Manchester and Jane Flanagan, who hand weaves beautiful clothing and home accessories from sustainable wool sources.
Gillian Montegrande is a lifelong supporter of craft. Through her site she hopes to not only support Britain's artisans but also to provide today's more thoughtful and discerning consumers with a one-stop-shop to browse and buy the best in handmade.
"I believe that we are witnessing a positive trend away from the mass-produced throw-away society of old and moving towards purchasing and surrounding ourselves with more of what matters," said Gillian. "Buying hand-made gifts not only supports our artisan communities, it also means we give our loved ones items that are more enduring and that prove their worth over the years."
The Christmas Gift Collection features everything from beautiful hand-crafted glasswork and contemporary jewellery, to handmade chocolates, luxurious textiles and furnishings, Harris Tweed toiletry bags from Catherine Aitken, hand-spun scarves, garden tools and oil on canvas paintings.
For the full range visit: http://www.madebyhandsofbritain.com/handmade/890/house-garden/gifts
-ENDS-
Note for Editors
About Made by Hands of Britain - http://www.madebyhandsofbritain.com
Made by Hands of Britain brings together over 190 carefully-selected, fine British artisans under one virtual roof to offer thoughtful and discerning consumers a wide range of ethically-produced, distinctive and unique items for home and garden.
Artisans represented on the site are skilled in many rural, heritage and contemporary craft disciplines related to home and garden including art and sculpture, food and drink, building and conservation, health and beauty, pets & livestock, clothing, accessories and jewellery, leisure sports and boatbuilding.
Made by Hands of Britain offers products and services that cannot be found on the high street, and caters for all budgets and tastes.
The site aims to provide the ultimate British Art and Craft resource for those who produce things by hand and for those who value and want to browse, buy and enjoy the very best in handmade.
Media enquiries to:
Michele (Lewis) McDermott-Fox
The Top Floor
T: 01625 502545 | M: 07729 501 369 | E: michele(at)thetopflooragency(dot)com
# # #