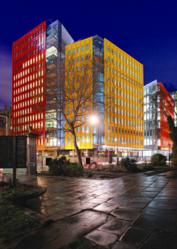 (PRWEB UK) 22 November 2011
United House Developments was awarded the prestigious Housebuilder of the Year accolade - the biggest prize in new homes - at the What House? Awards last Friday at London's Grosvenor House Hotel.
Now in their 30th year, the What House? Awards with http://www.whathouse.co.uk are the most coveted and longest established new homes awards, celebrating the achievements of housebuilders and developers in the UK, both large and small, across 21 categories.
Rupert Bates, editorial director of whathouse.co.uk, said:
"The What House? Awards, considered the 'Oscars' of the housebuilding industry, showcase some of the UK's most exciting and dynamic new developers, as well as highlighting the innovations among the industry's big players. This year's awards ceremony has been one of the biggest and most successful ever. It is great to see that, even in an extremely tough economic climate, so many housebuilders and developers have sustained their ethos on quality. United House Developments, the residential arm of the United House Group, is one such builder that has not and never will compromise on this and we are proud to have awarded them housebuilding's biggest award."
As a company that sprung to life in 1964 as Harp Heating, a domestic central heating specialist, United House Developments has come a long way, having established a variety of business skills that enable the company to move into any sector within the market, spotting opportunities and creating innovative partnerships.
The judging panel at the What House? Awards had this to stay about the 2011 Housebuilder of the Year:
"We would like to congratulate United House on winning the new homes industry's greatest accolade. In the last year, United House Developments has delivered 191 units, with a vast price range - from a £130,000 apartment in a Hounslow regeneration scheme, up to a £5.5 million property at Central St Giles in London's Covent Garden. There is more to come, with future developments totalling more than £500 million, among them some hugely exciting and mould-breaking projects."
The Gold Winners
HOUSEBUILDER OF THE YEAR
United House Developments
BEST LARGE HOUSEBUILDER
Redrow Homes
BEST MEDIUM HOUSEBUILDER
United House Developments
BEST SMALL HOUSEBUILDER
City & Country Group
SUSTAINABLE DEVELOPER OF THE YEAR
Keepmoat Homes
HOUSING ASSOCIATION OF THE YEAR
Affinity Sutton
BEST STARTER HOME
City & Country Group
BEST HOUSE
St James Homes
BEST APARTMENT SCHEME
Dandara and Octagon
BEST LUXURY HOUSE
Octagon
BEST RENOVATION
North Wales Housing
BEST DEVELOPMENT
Lower Mill Estate
BEST PARTNERSHIP SCHEME
Yuill Homes/North Tyneside Council
BEST LUXURY DEVELOPMENT
Manor Kingdom Homes by Gladedale
BEST MIXED USE DEVELOPMENT
Quintain Estates & Development
BEST SUSTAINABLE DEVELOPMENT
Linden Homes, Affinity Sutton, Homes & Communities Agency
BEST RETIREMENT DEVELOPMENT
Churchill Retirement Living
BEST BROWNFIELD DEVELOPMENT
Hopkins Homes
BEST INTERIOR DESIGN
Weston Homes
BEST EXTERIOR DESIGN
United House and Londonewcastle
BEST LANDSCAPE DESIGN
United House Developments, Londonewcastle and St James Homes
For the full list of What House? Awards winners and the winning developments visit
http://www.whathouse.co.uk/what-house-awards/results-2011 or download the new What House? App for iPhone and shortly iPad.
To register for details of the 2012 What House? Awards please contact Derek Smith. ds(at)globespanmedia(dot)com. Tel: 020-7324-2800
Rupert Bates, editorial director of whathouse.co.uk would like to thank the following What House? Awards 2011 sponsors:
•Whathouse.co.uk
•Roca
•Spicerhaart land & new homes
•Nolte Kitchens
•Hometrack
•Show House magazine
•Electrolux
•Premier Guarantee
•Johnson Tiles
•Laufen
•ScottishPower
•KLAS International
###