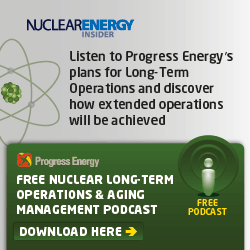 (PRWEB) November 23, 2011
With the slowing of new construction projects in the US, there is a vast amount of pressure for the existing 104 units to extend their operating life in order for America reach its ever growing energy demands, according to sources at Nuclear Energy Insider. This however is a difficult ask, as multiple mergers between different utilities, uncertain financial conditions and disruptive market conditions post Fukushima have been a huge burden for the current operating fleet - but Jim Holt has worked hard to deliver on time and on budget operation projects across the Progress fleet in spite of these obstacles.
This year the merger between Duke and Progress has been developing rapidly over the past 12 months – this has however put pressure on the supply chain and led to Holt running split teams on many of his large O&M projects. This challenge was met with careful planning and breaking down project elements across the teams and assigning specific goals to each group so that all projects come together on time and on budget.
Holt, who spoke with Nuclear Energy Insider, stated, "a divide and conquer strategy was one which was utilized in this pretty intense period." The challenges did not end there however – extra plant modifications, piping upgrades, digital modifications and power uprates all still need to be completed over the upcoming years. Holt discussed the importance of these major works to drive efficient and reliable power production in place of cancelled or delayed new build projects.
Jim Holt who spoke with Nuclear Energy Insider stated that "I believe that in this current situation we will see a continued intrusiveness, if you will, on ensuring we can improve the reliability of the operating units. So obviously with the slowing in nuclear construction projects, which you must have, is that your current operating fleet must be very reliable and dependable across many of the challenges that are faced in an operation cycle."
Because of this, Progress Energy has developed a critical long range plan that identifies and mitigates operational risks as plants approach their long term operations. This topic of LTO and the necessity to start capital intensive works now, in order to secure the future power production, is an area that all utilities are focussing on heavily and investing more time and resources into.
People can listen to the full interview with Progress Energy via the Nuclear Energy Insider podcast for free at http://www.nuclearenergyinsider.com/lto/podcasts.shtml
Download the full interview for free by using this link.
###