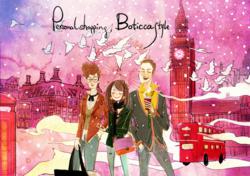 Our gift guides make it easy and fun to pick a unique gift this holiday season based on the fashion style of the recipient
London (PRWEB) November 23, 2011
Boticca.com, the online marketplace for unique jewelry, bags and accessories from top emerging designers around the world, has released gift guides drawn by acclaimed fashion blogger and illustrator Nancy Zhang of the Sea of Fertility.
Each gift guide represents a particular style embodied by a different character. The characters for women's guides are the Girl About Town, She Who Has Everything, Teenage Angst, Globetrotter, Earth Mother and Classic Queen. Those for men include the Old School Charmer, Chic Geek, Rock God and City Slicker.
"Our gift guides make it easy and fun to pick a unique gift this holiday season based on the fashion style of the recipient," says Boticca.com's CEO and co-founder Kiyan Foroughi. "Nancy's illustrations are also a treat for the eyes."
Headquartered in London, Boticca.com's team scours the world for the very best independent designers and creates an experience of global discovery by connecting them with a truly international customer base. From friendship bracelets to shoulder bags, the site offers a variety of unique, exquisite pieces ideal for gifting.
About Boticca.com
Boticca.com is the global online destination for accessories that connects customers directly with top independent designers all over the world. Boticca.com makes it easier and more enjoyable for customers to discover high-quality, unique jewelry, handbags and fashion accessories with a meaningful story. The marketplace is curated and edited by a team of fashion experts, designers, stylists and collectors, who illustrate the culture, stories and inspiration behind the collections on the site. With headquarters in London, Boticca.com has handpicked more than 230 emerging designers from over 40 countries and offers a selection of more than 6,000 pieces of jewelry and fashion accessories.
###