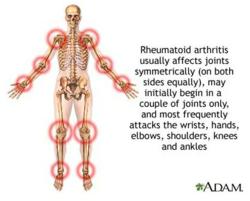 Say Bye Bye™ to your Arthritis pain
Toronto, Canada (PRWEB) November 21, 2011
My Pain Bye Bye™ a revolutionary new product that truly is the best solution for all types of body pain with absolutely no side effects. There's a special Christmas sale going on right now with 10% OFF sale price. Visit mypainbyebye.com for more details.
Arthritis is the inflammation and swelling of a joint, which causes pain and makes movement difficult. If left untreated, arthritis can cause permanent joint damage. Some types of arthritic pain are felt after use, such as after gardening or a workout. Other types of arthritis pain are unrelated to activity. Most people who have arthritis are stiff in the morning, but the stiffness and pain decrease as movement increases throughout the day.
Contrary to popular belief, arthritis isn't just a problem of old age. In fact, more than two-thirds of arthritis sufferers are under the age of 65. Osteoarthritis is also known as degenerative joint disease. It is the most common form of arthritis. Osteoarthritis is caused by wear and tear on the joints or repeated stress injuries to the joint. The second most common form of arthritis is an auto-immune disease known as rheumatoid arthritis. Juvenile rheumatoid arthritis affects children under the age of 16 and the cause is unknown.
Finally here's a natural solution with no side effects to solve all body pain including Arthritis pain. Here's what Rob an avid golfer has to say..."Initially I was very skeptical about the claims. I thought it would be like the other products being sold on the Internet. Anyways I thought of giving it a shot and placed my order. As soon I received it, I followed the steps as mentioned on the 'How to Use' section on their website. I suffer from constant back pain and this hinders my daily activities. I applied it before going to sleep. The next day, I woke up really fresh. I couldn't believe it. I usually wake up with my body aching, but today I was feeling really energetic. I continued applying for a couple of days and my chronic back pain was gone. I couldn't believe the effect. I have since recommended it to my golf buddies and they have also experienced the same and are full of praise. Thank you My Pain Bye Bye for setting me free - free of pain."
###