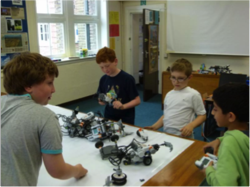 Week of fun, building and creating a range of moving robots to fuel their imagination.
Radlett, Hertfordshire (PRWEB UK) 23 November 2011
HG Education and Robotics Ltd™ will once again be running their hugely successful school holiday workshops for children during the forthcoming Christmas holidays, where children between the ages of 6 and 18 can come along to Aldenham School in Hertfordshire for a week of fun, building and creating a range of moving robots to fuel their imagination.
The popular robotics for children holiday workshop will run between 19 and 23 December from 10:00am to 3pm.
HG Education and Robotics Ltd specialise in teaching robotics to children in KS1, KS2 and KS3, as part of the National Curriculum, either through classroom-based workshops or through after school clubs and activities.
Howard Grahame, MD of HG Education and Robotics Ltd™, believes that the use of LEGO® robotics helps to unleash children's creativity and allows them to let their imagination run wild.
"We have run three themed robotics workshops for children over the last year - Mission to Mars, LEGO Green City® (Renewable Energy) and, this term, robots that can play sport. The kids love having the opportunity to create their own moving robots and especially enjoy the Robot Wars challenge at the end of the day. Since last summer, we have run many successful LEGO® robotic workshops and, during the recent October half term, our robotic workshops were attended by over 70 children who can't wait to come back again at Christmas time.
"During the half term holiday workshops, we taught children all about radio controlled racing cars by getting children to build them and then tune them so that they would work. At the end of the week, the kids took the cars home with them and then over the Christmas holidays, they will be coming back with their cars to learn more about tuning the cars and maybe upgrading them.
"The cars we use are 1:10 and 1:8 scale and teach children basic car mechanics, minus the engine management side of things. The exciting news is that we have a new car to build over the Christmas holidays - more an off-road car, which the kids will have great fun with."
HG Education use LEGO-related products to teach children five key subjects which are used every day in the classroom, including: Science, Technology, Engineering, Maths and English Literacy. Whilst Engineering is not a subject generally taught, LEGO® building brings out some basic engineering principles. All of the products used are unique to these, robotics for children workshops and cannot be bought from normal stockists. Using LEGO® robotics in this way is both fun and educational, as well as helping the children with their dexterity and to hone their concentration skills.
HG Education have, been successfully running after school clubs and workshops for the past two years throughout Hertfordshire. They currently run after school clubs at 20 schools in the area, inspiring and delighting over 400 children a week.
In the after school and holiday workshops children can build robots of all shapes and sizes and program them to move forwards and backwards and play robot wars.
Howard Grahame is now planning to expand the company's offering of after school clubs and workshops for children to the Buckinghamshire, North West London and South Bedfordshire areas. In addition, for those children attending schools where LEGO® robotics in schools clubs are not readily available, the company will next year be looking to open up a dedicated LEGO® and robotics studio in Radlett, Hertfordshire, which will allow parents to drop their children off, to learn about educational LEGO® creation right up to robotics level. The centre will be open from 9:30am to 6pm every day and will also be available for party hire.
HG Education and Robotics Ltd™ are now starting to work with local charities that support children with learning difficulties so if you work with such a charity, Howard encourages you to get in touch.
For further information on booking a half day/full day workshop at a school, securing a place on the Christmas holiday workshop for children or to book a LEGO robotics party, contact HG Education and Robotics Ltd™ on 0800 4118 999, e-mail: or go to: http://hg-education.com.
Follow Howard on Twitter: http://twitter.com/#!/hgeducation
###