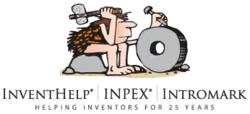 PITTSBURGH, PA (PRWEB) November 23, 2011
InventHelp®, America's largest invention submission company, announces that one of its clients, an inventor from Texas, has designed a decorative case for holding wipes and pads. This invention is patented.
The "Fashionable Wipe Holder" would feature an inconspicuous design that does not reveal the case's contents. This feature would help to alleviate any embarrassment for a woman so that she may feel comfortable in social situations. The case would feature a stylish and compact design for easy transportability and flare.
The Fashionable Wipe Holder would consist of a rectangular case made of hard plastic. The top and bottom lids of the case would be held closed via snap closures. One side of the interior of the case would hold wipes. The flip side would hold thin pads/sanitary napkins. The top of the case would feature an oval snap opening in the center so that wipes can be pulled out easily. The Fashionable Wipe Holder can be made in a deluxe model, produced in different colors and styles, and from different materials. Additionally, the case can be made in shiny versions that are glittery, gold and silver.
InventHelp® is attempting to submit the invention to companies for review. If substantial interest is expressed, the company will attempt to negotiate for a sale or royalties for the inventor. For more information, telephone Dept. 09-DLL-2221 at (800) 851-6030.
Manufacturers interested in reviewing additional inventions and new product ideas can contact InventHelp's marketing partner Intromark by filling out an online request to review new product ideas here.
# # #