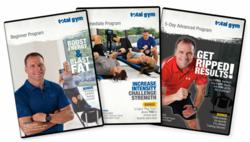 Unlike anything you've experienced – you will feel the burn, you will see the results, and you will love every minute of it!
West Chester, PA (PRWEB) November 22, 2011
On the holiday wish list of every Total Gym user is a high-energy, get ripped professional-level workout series. Well, 'tis the season… Total Gym has just announced the pre-release of their much anticipated series of 3 NEW Total Gym pro-level workout programs on DVD featuring one of pro sport's top trainers, Todd Durkin.
Through an exclusive pre-order offer sent today to existing customers, Total Gym has announced "Get Ready to Rock Your World with This Revolutionary New Workout Series Designed to Deliver a Rock-Hard Bod!" The exclusive pre-order offer features a 37% savings on the Complete Workout Series, Free Shipping and Guaranteed XMAS Delivery with orders placed by 12/11/11. The official release will be in first quarter 2012.
Twice named personal trainer of the year, Todd trains some of the biggest names in professional sports including MVPs, pro-football champions and Gold Medalists. Until now, only pro-athletes and fitness enthusiasts had access to Todd Durkin's most advanced training principles. Todd believes there is an athlete in everyone and reveals some of his favorite pro-athlete training secrets on the Total Gym. Designed to deliver maximum results at every fitness level, the Complete Workout Series includes 5 Revolutionary new Workouts on 3 DVDs. From Beginner to Advanced, Todd takes the user on a journey to improve their overall health and fitness performance, whatever their current fitness level.
About its new workout series, Total Gym touts "It's unlike anything you've experienced – you will feel the burn, you will see the results, and you will love every minute of it!"
Complete Series Includes 5 Intense Total Body Workouts on 3 DVDs:

Beginner Program to jump-start your fitness and increase your strength, stamina and energy.
Intermediate Program to step-up your game by challenging strength and increasing intensity to build muscle & burn fat.
5-Day Advanced Program (separate Upper Body & Lower Body Workouts) designed to get you ripped.
BONUS – 19-minute "Half-time" Beginner Express Workout for days when you are crunched for time or to work your way into an exercise regimen.
To learn more about the exclusive pre-order offer click here.
About Todd Durkin:
Twice named Personal Trainer of the Year, Todd Durkin trains dozens of NFL and MLB athletes including Super Bowl XLIV MVP Drew Brees, Super Bowl XLV Aaron Rodgers, and former NFL MVP LaDainian Tomlinson. Additionally, he has trained one Olympic Gold Medalist, an MLB Champion & MVP, two X-Games Gold medalists, 2 Heisman trophy winners, and tens of thousands of other elite and amateur athletes as well as fitness enthusiasts. Todd has appeared on 60 Minutes, ESPN, the NFL Network and has been featured in Sports Illustrated, USA Today, STACK Magazine, Business Week, Prevention, ESPN the Magazine, Men's Health, and countless other media outlets.
About Total Gym®
The Total Gym, is the ultimate workout machine utilizing an individual's own body weight as resistance to perform any exercise and incorporates the use of multiple muscle groups together in all planes of movement. Total Gym entered the consumer "home fitness" market in 1996 with the airing of its first television infomercial featuring long-time user Chuck Norris and co-host Christie Brinkley. The Total Gym infomercial is one of the industry's longest-running and most successful; broadcast to 85 countries and credited with sales of over four million units worldwide.
###