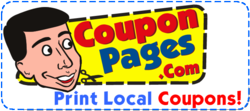 Deal sites like Groupon and LivingSocial don't distribute coupons...
Staten Island, NY (PRWEB) November 21, 2011
What's a "Real" Coupon? Don't ask anyone from Groupon or LivingSocial, because although Groupon may sound like Coupon, they would be the first people to tell you they don't actually have coupons on their site.
"A coupon is something that you bring into a merchant for a discount," says Joe Crescenzi, who founded CouponPages.Com in 1996. "Deal sites like Groupon and LivingSocial don't distribute coupons, they sell discounted gift certificates and there is a huge difference, because people have to pay up front to get those discounts. All of our coupons are real coupons that people print for free and bring directly into local merchants. Unlike deal sites, we don't charge consumers for the discount and we don't take a cut from the merchant. Those sites actually take 50% of the sale price as a fee from the merchant... that's crazy."
CouponPages is one of the only sites online that focuses exclusively on printable coupons from local merchants. Originally CouponPages only featured coupons in the north east and southern Florida, but they now feature printable coupons from local merchants in 650 cities, in 33 states, plus national offers good at supermarkets and national chains nationwide.
"Our formula for success is very simple. We support local merchants by providing a low cost way for them to distribute coupons to their customers."
"We know customers love coupons. We know customers will come back to a store more often if they have a coupon, and we know that customers are searching for coupons online. By providing a simple low cost way for merchants to distribute coupons, we help them increase business without big expense of mass printing & postage."
In just a few months, the site has grown from only 9 states to 33 states by recruiting a small team of agents who sign up merchants in their home towns.
###