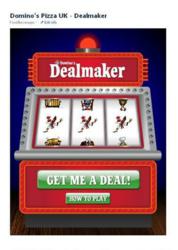 (PRWEB UK) 22 November 2011
Domino's, the pizza delivery expert, has launched a new dealmaker on Facebook to mark reaching 300,000 UK fans.
The dealmaker launched today [November 21, 2011], will release 1000 codes daily. Domino's Facebook fans will have the chance to spin the dealmaker wheels up to three times to try to win the best offer. Once the fan has chosen the deal they want to keep or the third spun has been made, a voucher code will be emailed to them.
Included within the tasty offers on Domino's dealmaker is a free portion of garlic mozzarella sticks when customers spend £20. Recently reintroduced following phenomenal demand, the garlic mozzarella sticks were first on the menu at Domino's last year as a guest item. When the side order disappeared, Domino's customers and fans on Facebook and Twitter began asking for their return. Their cheesy cries have now been answered with the return of the garlic mozzarella sticks at Domino's and inclusion in the new dealmaker on Facebook.
Simon Wallis, sales and marketing director at Domino's, said: "We are delighted to celebrate 300,000 fans on Facebook with our new dealmaker. Social media is fantastic for interacting with customers and gives us a great opportunity to listen to our fans. The feedback on our garlic mozzarella sticks is just one example of us hearing their views and responding. With the launch of the dealmaker too, we're pleased to be able to offer fans another good reason to keep engaging with us on Facebook."
Become a Domino's UK fan on Facebook at http://www.facebook.com/DominosPizza and use the dealmaker to grab a tasty offer.
Notes to Editors:
Domino's Pizza UK & IRL plc is the leading player in the fast-growing pizza delivery market and holds the exclusive master franchise to own, operate and franchise Domino's Pizza stores in the UK and the Republic of Ireland. The first UK store opened in Luton in 1985 and the first Irish store opened in 1991. In April 2011, the Group acquired a majority stake in the exclusive master franchise to own, operate and franchise Domino's Pizza stores in Germany.
As at 25 September 2011, there were 702 stores in the UK, Republic of Ireland and Germany. Of these, 553 stores are in England, 47 are in Scotland, 28 are in Wales, 19 are in Northern Ireland, one is on the Isle of Man, one is a mobile unit, 49 are in the Republic of Ireland and four are in Germany.
Founded in 1960, Domino's Pizza is one of the world's leading pizza delivery brands. Through its primarily franchised system, Domino's Pizza operates a global network of more than 9,350 Domino's Pizza stores in 70 international markets. Domino's Pizza has a singular focus – the home delivery of pizza, freshly made to order with high quality ingredients.
Customers in the UK can order online at http://www.dominos.co.uk and customers in the Republic of Ireland can order online at http://www.dominos.ie. In addition, mobile customers can order by downloading Domino's free iPhone, iPad and Android apps.
For more information, please contact:
The Domino's Pizza Press Office
Domino's Pizza Group Ltd
Tel: 01908 580654
E: pr(at)dominos(dot)co.uk
Ref: DPGL/CM/544
###