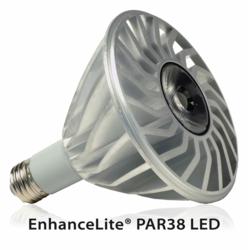 Our EnhanceLite® PAR38 Spot adds to our full-line of quality offerings, making LEDnovation the supplier of choice for many customers.
Tampa, Florida (PRWEB) November 21, 2011
LEDnovation, a leading innovator in LED lighting and replacement lamp technology, today announced availability of the EnhanceLite® PAR38 Spot. With a 3000K color temperature and tight, 14° beam angle, the PAR38 Spot boasts center beam candle power (CBCP) of 10,280 candelas, making it the ideal choice for highlighting objects from afar in commercial and retail applications. This new option adds to the 27°, 35° and 55° beam angle choices already available on the EnhanceLite® PAR38 lamps.
Israel J. Morejon, CEO of LEDnovation, commented, "From the outset, LEDnovation has been very deliberate in its process of bringing to market LED replacement lamps that deliver change without compromise. Critical to this was offering a full-line of high quality products with multiple choices of beam angle, lumen output and color temperature. Our EnhanceLite® PAR38 Spot adds to our full-line of quality offerings, making LEDnovation the supplier of choice for many customers."
LEDnovation's newest PAR offering features the latest technological advances in LED efficiency and optic design. Coupled with a strong thermal design, it out-delivers the competition and is significantly more efficient than the halogen and incandescent lamps it replaces.
Morejon concluded, "Quality is fundamental to our mission at LEDnovation. We believe the LED lighting revolution promises to deliver not only the best efficiency but also the best quality of light. Our new PAR38 Spot delivers on that promise."
The EnhanceLite® PAR38 Spot further expands the Tampa, Florida based company's industry-leading portfolio of LED-based replacement lamps. LED lighting continues to gain acceptance for a growing number of applications by providing superior performance, higher efficiency and longer lifetimes.

14 degree beam angle
51 lm/W delivering 970 lumens with a CBCP of 10,280 cd
Effective replacement for 90 watt incandescent PAR lamps
3000K warm white
CRI greater than 83
Dimmable
All LEDnovation lamp models are tested for photometric performance in accredited third-party labs according to IES LM-79 requirements, with reports available online. All lamps meet UL 1993 safety standard. These commercial grade models are rated for a 50,000-hour lifetime, carry an industry-leading 5-year warranty and unlike other LED offerings, fully conform to ANSI standard form factors to assure compatibility with existing fixtures. The EnhanceLite® PAR38 Spot will be available in December 2011.
About LEDnovation - Change without compromise
Offering a full spectrum of LED-based replacement lamps, LEDnovation is leading innovation in the field of solid state lighting. Solid state, or LED lighting generates light from complex semiconductor materials, eliminating much of the wasted energy that has been inherent to electric light-generation for over a century. By combining multi-disciplinary strengths in LEDs, electronic systems, power supplies, thermal and optics design, LEDnovation has succeeded in developing some of the highest efficacy LED replacement lamps available, offering a winning business case and rapid return on investment to commercial clients and property operators. The company is headquartered in Tampa, Florida and manufactures its products in North America.
For more information, visit http://www.lednovation.com.
For inquiries:
Email: inquiries(at)lednovation(dot)com
Tel: 813.891.9665
# # #