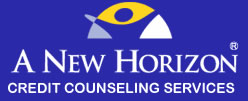 Stark said, "With many consumers still unemployed or under-employed, more consumers will be forced to use their credit card for expenses thus worsening their financial condition
Fort Lauderdale, FL (PRWEB) November 21, 2011
Two new reports issued by the Federal Reserve indicate that consumers currently have greater access to credit cards. Nevertheless, credit card customers continue to pay down their balances. A New Horizon Credit Counseling Services is a nonprofit debt managemen t organization that has been helping consumers since 1978.
The Federal Reserve's Monthly G.19 Consumer Credit Report and the Quarterly Senior Loan Officer's Survey confirm that consumers have far more access to credit than they did during the lowest levels of the recent recession. The studies also find that consumers are determined about paying off their credit card debt. Revolving credit, nearly all of it credit card debt, dropped 1% or nearly $8 billion in September 2011 to $789.6 billion. Credit card debt levels have been declining since the recession began with $183 billion in revolving debt eliminated between September 2008 and April 2011. The same reports however show a 5.8% increase in non-revolving debt, loans for education, autos, boats, mobile homes and the like, to $1.66 trillion.
The ease with which credit can be obtained is confirmed in the Federal Reserve Senior Loan Officer Study, which reported that a small number of banks modified their loan approval requirements, interest rates and credit limits, which in turn increased consumer demand for credit cards. In fact, 17.6 percent of banks surveyed reported demand for credit cards as "moderately stronger" in the third quarter.
Steven Stark, General Counsel for A New Horizon Credit Counseling Services commented, "This unprecedented decline in credit card debt has several contributing factors. Foremost is that consumers heeded the advice of experts at the beginning of the recession and were determined to pay down their debt".
Nevertheless, the increased availability of credit presents new concerns for personal finance experts. Stark said, "With many consumers still unemployed or under-employed, more consumers will be forced to use their credit card for expenses thus worsening their financial condition. Before doing this, they should get advice from a credit counseling agency on how to avoid adding credit card debt and pay off exiting balances with the resources they already have."
For more information about their programs, contact 1-800-556-1548. They can also be found on the web at http://www.anewhorizon.org, or reached via email at slieberman(at)anewhorizon(dot)org
###