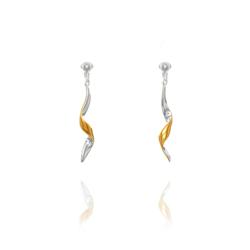 ...what's been noticeable is strong demand of real pearls on sterling silver clip on fastenings over their cheaper costume jewellery counterparts
London, UK (PRWEB) November 22, 2011
With the economic crisis continuing and no clears signs of an end to either the US deficit or the Eurozone's problems, many are forecasting gloom in the retail sector. Visa Europe's Christmas Spend Tracker showed a surge around Halloween followed by average purchases being about 10% less in size than comparables in 2010. However in a statement issued today, online clip on earring specialists, Make Me Beautiful, announced strong sales in both silver clip on earrings and pearl clip on earrings.
"Pearl clip on earrings are a staple accessory in which we'd always foresee strong demand," explained Misae Richwoods, director of Make Me Beautiful. "However what's been noticeable is strong demand of real pearls on sterling silver clip on fastenings over their cheaper costume jewellery counterparts."
"There has also been faster than expected demand for sterling silver clip on earrings," continued Ms Richwoods. "Whilst soaring gold prices have made solid gold clip earrings financially unattractive, many consumers are choosing to pay the extra to take quality sterling silver clip on earrings that they can wear for years to come over fast fashion lines that are accessibly priced but are unlikely to run for long past the end of a season."
Numerous sources including reports in industry trade publications cite a wider trend within fashion as well as jewellery in which savvy consumers realise that the best value item for purchase does not simply mean the cheapest priced. Shoe and coat retailers are particularly noticing the rise in the investment piece purchase.
The next two weeks will be the busiest in the year for online retail with an estimated £18 million being spent an hour in the UK on the busiest Monday.
About Make Me Beautiful
Make Me Beautiful was the first site that made clip on earrings sexy and stylish again. Whilst other sites focus on peddling Pat Butcher's left overs, Make Me Beautiful curates a fashion forward collection of the best of Britain's talent with over 1,000 lines from leading designers all in clip on, screw on, spring loaded or other non-pierced designs. Make Me Beautiful serves customers in over 30 nations and three languages via it's online web store at http://www.make-me-beautiful.co.uk together with partner sites from it's headquarters in Wimbledon, London and customer service centre in Florida, USA. Make Me Beautiful is a trading name of Rising Dragon Enterprises Ltd.
Media Contact:
Misae Richwoods
0208 123 9800
press(at)make-me-beautiful(dot)co(dot)uk
http://www.make-me-beautiful.co.uk
###