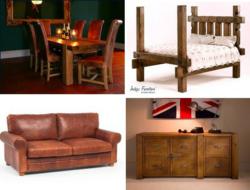 This exciting move is a result of increasing demand for their unique furniture pieces
(PRWEB) November 22, 2011
The furniture company, based in Matlock, Derbyshire at the heart of the Peak District, was set up by two school friends Dave Castle and Miles Gregory. Sharing a joint passion for unique quality design and a dream to reinvent the wooden furniture industry, the two friends set about creating their own company. From this idea, Indigo was born in the once Victorian Spa town, where the company showroom is still based today.
The company has come a long way from those early days but its principles have never changed and remain the reason why Indigo is set apart from other furniture manufacturers. Indigo's mission is to build quality products that will last a lifetime, that celebrate the natural beauty of wood and use traditional techniques to manufacture the pieces. Every product has a 15 year guarantee, which is a rarity in today's 'throw away' society. This unique offering is made possible by Indigo's attention to detail in every aspect of the manufacturing process, from the design concept, to the sourcing of the materials.
Indigo also only design pieces of furniture that they feel will be both versatile and functional within the home. All of their pieces strike a perfect balance between style and practicality. Many are designed to be multi-purpose and to work in many different areas of the home. Clever features such as additional storage and hidden shelves are standard in Indigo designs and give the pieces great appeal for modern family households.
The other key principle which sets them apart from any other company in the market is their manufacturing and finishing process. Indigo favour using traditional hand-crafting techniques above modern methods. They believe these ancient processes produce a much finer quality piece that has true character. The wood grain, the saw marks and other features of the process are celebrated as part of the design. Again, this is a unique concept in modern manufacturing and means that each Indigo piece is as individual as the person buying it.
It is these principles that have made the brand so popular with customers. Despite the phenomenal growth the company has seen since it's foundation in 1998, they continue to produce the same unique, quality pieces of furniture with outstanding guarantees that they always have done and this latest move will not change that. Selling from their showroom in Matlock, customers have the chance to see the stunning furniture in the flesh and witness the quality for themselves. The Matlock store is run alongside their thriving website where customers from around the world can order the unique and distinctive furniture.
The passion of Dave & Miles, the founders of Indigo, for design led, beautifully made, unique furniture is paramount to their success. With the acquisition of their new warehouse, we look forward to seeing Indigo Furniture grow further as an iconic brand that will represent British design and manufacturing on a world wide stage, showcasing the best of the UK furniture industry.
###