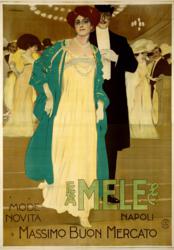 Over 50 vintage posters advertising entertainment, fine foods, exotic travel, luxury products and more.
Boston, MA (PRWEB) November 22, 2011
International Poster Gallery (IPG) proudly presents its 18th annual holiday poster show "In The Spirit!", an exhibition of original vintage posters that celebrate the mirth and indulgence of the season. The show, which is free and open to the public, runs December 1, 2011 – January 31, 2012, and features over 50 original vintage posters advertising entertainment, fine foods, exotic travel, luxury products and more. International Poster Gallery is located at 205 Newbury Street in Boston and is open daily from 10am – 6pm and Sunday from noon – 6pm. For additional information, please visit http://www.InternationalPoster.com or call 617-375-0076.
Highlighting the show is a 1902 poster by Maurice Biais advertising a performance of the Australian-born dancer Saharet. The poster features the world-renowned performer dancing a lively can-can, her bright red dress flourishing wildly across the foreground. Married to Jane Avril and a member of Toulouse-Lautrec's circle, Biais knew his subject well, capturing the wild and frenetic spirit of the French cabaret brilliantly. His posters are rare and few in number, and this one in particular reflects an economy and graphic power that is remarkable for the period.
A towering poster for Naples department store Mele by Leopoldo Metlicovitz is also on display. An elegant couple enters a ballroom in one of the most stunningly elegant posters created by Metlicovitz for Mele. The artist created about a dozen posters for the company over roughly a five-year period, and this one reflects his mastery of the art of the fashion poster. The richness of subtle color harmonies, its dynamic composition, and grand scale make this poster a centerpiece for any wall or room. This is one of the rarest of Mele posters, and even more importantly, this impression is free of light stains on the folds, with color as fresh as when it was printed.
Walther Koch's 1906 image of an ice-skater mid-stride is the perfect one to advertise travel to Davos, one of the "hottest" winter sports destinations in Switzerland. At the time, skating was the most important winter sport as skiing was just in its infancy. The Davos Ice Stadium was famous for its many international skating events and saw a great number of world record performances there as early as 1898. Koch's elegantly serene poster was so successful that it was used for several years, merely overprinted with event information at the bottom.
Next is Henry Le Monnier's vibrant 1926 advertisement for the French wine cooperative La Chablisienne. The poster features a beautiful woman draped in a flowing yellow dress, surrounded by grape vines as she perches atop the globe. Le Monnier created dozens of posters, all in a style similar to Cappiello, but with a heightened Art Deco sensibility. Here his cheerful and creative style comes to the fore, with the powerful geometry of the design creating an image still used today by the winegrowers.
Also starring is a playful 1912 advertisement by H.L. Roowy for Michelin, featuring the company's popular mascot Bibendum, known colloquially as the Michelin Man. Bibendum, who first appeared in a 1896 poster by O'Galop, is one of the world's oldest trademarks and still represents the company today. In the ad, the cigar-chomping character pedals merrily along hands-free on a bicycle, dispensing the tires that comprise his mid-section to all he passes. The flying tires appear to leap off the page, crossing the border of the image's deep blue background and overlapping the advertising copy and leaving an indelible impression on the viewer.
In addition to gallery shows and special exhibitions, IPG's award-winning website, http://www.internationalposter.com offers one of the largest, most comprehensive online collection of vintage advertising posters in the world. Originally launched in 1998, the site contains nearly 5000 images accessible through a powerful search engine.
###