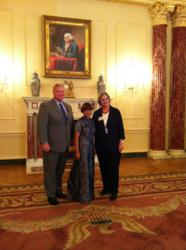 "[McGrath Real Estate]... have been extremely happy to sponsor and support the Foreign Service Youth Foundation over the years." -Jim McGrath
Herndon, VA (PRWEB) November 23, 2011
Jim McGrath, president of McGrath Real Estate Services, Inc. was nominated and has accepted a position on the Foreign Service Youth Foundation Board of Directors. A former foreign service youth himself, Jim and his brother, Vice President, Tim McGrath spent much of their childhood traveling the world with the father, a Foreign Service Officer and mother. Understanding the unique challenges and needs of owning a home while overseas, the McGrath's began their Northern Virginia property management firm. Now decades later, Jim and Tim own and manage the business. Inspired by their own experience as Foreign Service youths, the McGrath family chose to become involved with the Foreign Service Youth Foundation.
The Foreign Service Youth Foundation was created to examine the special needs and concerns of youths in the US and worldwide. They develop, implement and fund programs to meet the needs of the Foreign Service youth. Some of these programs include quarterly newsletters and yearly contests for students.
For the last several years McGrath has sponsored the FSYF Essay contest aimed at young adults in the United States and abroad to share their experiences based on an essay topic. Winners receive a cash prizes and are honored in Washington DC every summer. Wanting to be even more involved with this great program, Jim petitioned to join the board and was approved in November. The Board oversees the many programs and publications and manages the budget among other things.
"We have been extremely happy to sponsor and support the Foreign Service Youth Foundation over the years. FSYF has a direct and positive impact on our friends, clients, family and colleagues that work overseas for the benefit of us all and I am thrilled to be a member of the Executive Committee. The FSYF contests, college scholarships and preparation programs, as well as many special opportunities and support programs are very beneficial to our members. I encourage all Foreign Service families to consider becoming a member." If you are interested in joining the Foreign Service Youth Foundation, please visit their website at http://www.FSYF.org.
About:
McGrath Real Estate Services has served the Northern Virginia region since 1976 as an expert in property management and real estate sales. Founded by a Foreign Service family they understand and appreciate the unique needs of homeowners serving our country abroad. For more information please visit http://www.McGrathRealEstate.com.
###