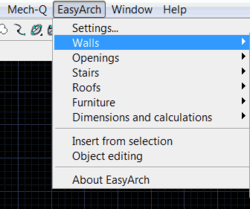 a completely unique set if free tools that seamlessly automate the building process
Bend Oregon, U.S.A. (PRWEB) November 22, 2011
Today AViCAD.com announced the addition of their new Architectural software which will facilitate the architect, engineer or designer with drawing 2D floor plans and roof designs. The Architectural software called Easy-Arch runs as an add-on within AViCAD.
AViCAD is a professional, native DWG 2D/3D AutoCAD® Alternative which ships with with Applications, Libraries and Tools at remarkably low cost. AViCAD had developed their platform using IntelliCAD, ACIS and Open Design Alliance programming tool kits.
Owner Victor Abela describes the Easy-Arch Tools as "a completely unique set of free utilities that seamlessly automate the building process for architecture and engineering projects"
Easy-Arch is integrated within AViCAD, Tools are available within the main Toolbar. Easy-Arch includes set of utilities to draw walls , windows, doors. roofs and stairs using various menus and dialog configurations.
EasyArch allows the AViCAD user:

Create and redefine rooms and spaces
Quickly draw and Edit walls (supports curved walls)
Insert, copy, move, edit doors and windows automatically
Manage and insert various parametric blocks
Includes furniture Blocks with parametric scaling
Create flights of 2D stairs (plus spiral and helical)
Create 2D Roofs Plans , hip and single pitch
Assisted Dimensioning and more
Easy-Arch uses a parametric technology which allows the user to draw intelligent architectural objects. Later if needed the user can use an Object Editing Tool to revise the element without redrawing it all over again.
Victor Abela explains "Parametric s are a big feature in Easy-Arch. For example a window can be selected and re-sized by entering in a new width. Immediately after the adjoining walls automatically heal themselves to the new opening."
Easy-Arch is not sold separately but is include when you purchase AViCAD. Easy-Arch is supplied at no additional cost. AViCAD runs within XP, Vista or Windows 7 32/64 bit.
For additional information on the product,please visit: http://www.avicad.com
For additional information about AViCAD as an AutoCAD® alternative, please contact:
Erik Zetterberg
Tel: (888) 271-7121,
sales(at)avicad(dot)com
About AViCAD
AViCAD is owned by Cadavenue a division of ASVIC Software Inc. Their clients are involved in hydro power, food processing, aquaculture, petrochemical, biotechnology, treatment plants, heavy industry, marine, mining, military, pharmaceutical, pulp & paper, energy generation, snow making plants and various other related markets.
For more information about the company, latest news, and purchasing information, visit CADavenue.com on the Web at http://www.cadavenue.com.
Please contact Erik Zetterberg, 61149 South Hwy 97, #109 Bend, OR 97702 USA, Tel: (888) 271-7121 sales(at)avicad(dot)com, with questions about this press release.
###