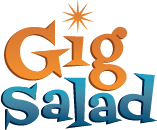 (PRWEB) November 22, 2011
Gig Salad — one of the internet's leading websites for discovering and booking entertainment — is making it easier for party planners to browse its nationwide roster of over 18,000 entertainers and event professionals with the launch of the Gig Salad mobile website and the Gig Salad iPhone app.
With hectic schedules and ever-changing situations, the day in the life of an event planner — whether professional or amateur — can be chaotic. Gig Salad's online tools were built to aid planners in heading-off potential party disasters. Whether your headlining act canceled at the last minute, or your assistant forgot to order the party decor, Gig Salad can help keep your event on track.
With the touch of a button, the iPhone app can access the user's current location and display a categorized list of entertainers who are willing to travel to that location. Users can then select a category, and within seconds, browse Gig Salad's impressive lineup of singers, dancers, clowns, comedians, motivational speakers, musicians and vendor services.
"I plan several events and parties each week, and this app is very useful because I can offer entertainment options to clients even if I'm not in front of the computer," says Felicia Carter, a New York City event planner. "The app is very fast, and because I can enter the location of the event I'm planning, it gives me tons of relevant entertainment options in close proximity."
Additionally, iPhone users can read and write reviews, contact Gig Salad members (or call at the click of a button) and browse photos, video and music. Performers and event service vendors interested in inclusion inside the Gig Salad app, can sign up on GigSalad.com for free.
The mobile site works much like the regular GigSalad.com, except it's optimized to allow users easier and faster access to all of Gig Salad's content.
"In today's world, people increasingly utilize mobile devices to access websites and website content," said Gig Salad co-founder Steve Tetrault. "The Gig Salad mobile site is a pared down version of the full site for ease of navigation and speed of download onto your mobile device. It allows users to quickly find exactly what their looking for, without waiting for their mobile devices to load the full website."
About GigSalad.com
Gig Salad seamlessly connects event planners with talented performers, musicians, speakers, and party suppliers. Event planners visit Gig Salad to search for, connect with, and book entertainment and/or party services for a myriad of events — private parties, concerts, weddings, corporate events, music festivals, studio sessions, fundraisers, launch parties, and more. Founded in 2005, Gig Salad has grown into one of the leading entertainment booking sites on the internet and has been utilized by entertainment industry giants like MTV, McDonalds, America's Got Talent, Wal-Mart, Disney, NBC, CBS and more. For more information, visit http://www.GigSalad.com.
# # #