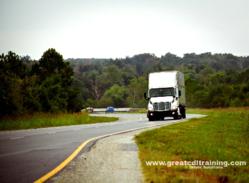 All the heartfelt stories and the sheer number of entries really touched us at Driver Solutions, making voting extremely tough.
Indianapolis, IN (PRWEB) November 29, 2011
The body can't live without its cells, nor can a country survive without its trucks. Or that's at least how CJ Rimmer described the critical role of America's big-rig drivers in his entry to win the second-annual Truck Driver Appreciation Contest (http://blog.greatcdltraining.com/blog/free-cdl-training-information/2011-truck-driver-appreciation-contest-winners).
With his lengthy essay, skillfully outlining how the job of professional truck driving relates to how the human body works, Rimmer received the grand prize. But he wasn't the only recipient — both Roger Simmons and Paul Deeter also grabbed up two additional grand prizes simply because Driver Solutions and eGears, which conducted the contest, gave more awards than planned.
This year's contest was an unexpected hit with a 250% spike in contest nominations, making it impossible for Driver Solutions and eGears — two of the country's top leaders in truck driver education — to choose just one winner. So they gave three grand prizes, plus an honorable mention, according to Driver Solutions' Kari Yerkes, who was one of this year's judges.
"No question about it, judging was downright hard because all the nominees sacrifice for us constantly," Yerkes says. "And winners aside, it's crucial to cherish each of these individuals who are away from their families and on the road, day in and day out. Without their dedication, we wouldn't have what we need to survive in such a timely, convenient way."
As planned, the annual contest took place during National Truck Driver Appreciation Week in September. But because of the event's surprising popularity, the judges extended the submission deadline to honor even more truck drivers. Each top winner received the Ultimate Truck Driver Convenience Package — a $250 gift card from Wal-Mart for the purchase of truck tools, a mini-fridge, XMSatellite Radio, a Garmin GPS system, comfortable clothes or whatever else makes the trucker's life better.
"We're so grateful to everyone who entered our Truck Driver Appreciation contest," says Mark Kinsel, president of Driver Solutions, a company that's helped 20,000+ truckers obtain key hiring requirements and job support through its highly unique, company-paid CDL training model. "All the heartfelt stories and the sheer number of entries really touched us at Driver Solutions, making voting extremely tough. Ultimately, we looked for those where Driver Solutions, our Network Carriers and the trucking industry itself benefited their lives. We also looked for entrants whose truck-driving career had impacted others in positive, personal ways. Driver Solutions appreciates your support as we continually work toward helping more individuals realize their truck-driving dreams."
About Driver Solutions
Specializing in CDL training, Driver Solutions partners with reputable trucking companies to offer company-sponsored CDL training and job opportunities to inexperienced truck drivers. Last year, Driver Solutions helped more than 2,400 men and women start new truck-driving careers. With over 23 years of experience, Driver Solutions has become a recognized leader in CDL training.
###