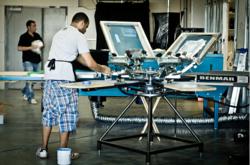 Montreal, CANADA (PRWEB) November 22, 2011
Wordans, the online retailer of custom apparel and printed products launched their online ordering system for screen printed clothing today. The application allows visitors of the website to upload, create and layout their graphics, logos or text and preview the garment.
"Screen printing on garments, or silk screening, has traditionally required a more hands-on approach whereby clients would have to meet with the printer, deliver designs, make garment selections and finally approve the proofs before production of the order. We have streamlined the process to a matter of minutes", said Wordans president Eric Gautier.
With their online application, Wordans also offers users the ability to choose from more than 60 different types of garments, in a variety of colors as a base for the silk screening.
Eric added, "Many of our clients require only one or two colors to be printed on their custom t-shirts or sweatshirts. In these cases, we recommend the silk screening process."
Minimum order sizes for silk screened garments and accessories including t-shirts, polos, sweatshirts are 50 units. For smaller orders or garments that require full-color prints, Eric recommends digital direct to garment printing, which the company also provides. There are no minimum order sizes for the digital printing services.
Some Advantages of Screen Printing:
> The best technique for true white ink printing
> More economical than other methods for bulk orders of 50 pieces or more where 3 or fewer colors are used
> Has a wider range of applications since this printing technique is less sensitive to variances in the garment materials
> More choices of inks, including eco-friendly ink mixtures
Wordans.us is an online retailer of custom apparel and accessories. The company's product line includes t-shirts, hoodies, sweatshirts and other apparel as well as posters, banners and large format prints, and iPhone and iPad skins. Wordans was founded in 2009 by Eric Gautier and ships its customized products internationally.
###